Contact Supplier
Contact Supplier
To get in touch with EnviroChemie GmbH, simply fill out the form below.
Clearfleau, member of the EnviroChemie group brings advanced waste into energy technologies to Utility Week Live 2019
Rossdorf, Germany: – Water treatment specialist EnviroChemie UK-based group member Clearfleau will be a prominent presence at the upcoming Utility Week Live event in Birmingham, showcasing its advanced technologies for converting waste into energy.
Clearfleau and EnviroChemie will be exhibitors at the event, with an isle stand at Booth H31 at the National Exhibition Center. Its event team will be led by Clearfleau's Marketing Director, Richard Gueterbock, who says the rapidly increasing sense of 'climate change emergency' makes the company's technologies more relevant and essential than ever, with enhanced resource efficiency and renewable energy now being championed across Europe, as well as pressures to reduce water footprint.
Water and energy efficiency imperatives
"With the Intergovernmental Panel on Climate Change (IPCC) raising concerns about global warming and calling for action to reduce the impact of greenhouse gas emissions, there is a change in attitudes towards resource efficiency and pressure to make manufacturing processes more sustainable," Mr. Gueterbock comments.
"A more holistic approach to both energy supply and water management is being encouraged. This can significantly reduce both carbon emissions and water use. Residues from many production processes have a latent energy and water content. Traditional, often wasteful disposal methods can be replaced with a more circular approach, where the value of residues is recognized as part of their redeployment," says Mr. Gueterbock.
Specialist water and waste treatments
"With concerns about long-term water supplies, industry is expected to curtail its water footprint and use process water more sustainably. The re-use of treated wastewater, minimizing waste generation and creating value from process residues that would previously have been discarded requires specialist and cost-effective technologies and expertise. The pharmaceutical sector must meet resource efficiency expectations, including on-site water recovery and clean-up for re-use to meet its exacting water quality needs," he points out.
Alongside its own advanced aerobic and anaerobic solutions that can generate energy from industrial effluents and residues, the Clearfleau stand will also showcase the wide portfolio of EnviroChemie solutions for industrial water purification and wastewater treatment.
Advanced oxidation
These include advanced oxidation processes for more complex requirements, such as Advanced Pharmaceutical Ingredient (API) destruction and hard COD removal, inactivation plants to treat biologically active wastewater, modular water recycling and re-use systems and a range of customized biological treatment processes.
"Our modular systems can facilitate purification and recycling and re-use water consumed on smaller factory sites. With industry being expected to deploy resources more efficiently, the pharma sector should be including water treatment and re-use in its efforts to future-proof manufacturing sites," says Mr. Gueterbock.
About Clearfleau
Clearfleau is a British effluent treatment technology supplier and leading provider of on-site biogas plants for the food and beverage processing sector.
Part of the EnviroChemie group, Clearfleau supplies water management solutions for industrial sites alongside innovative Anaerobic Digestion technology. Its on-site bio-energy plants can convert industrial effluents and residues into renewable energy, using anaerobic and aerobic technologies.
Clearfleau plants are designed for on-site treatment of industrial effluents and co-products particularly from the food and beverage sectors including Fats, Oils and Grease (FOG). Clearfleau has operational plants and others in the pipeline on food, dairy and whisky production sites across the UK. No two Clearfleau plants are exactly alike, being tailored to individual site requirements.
For further information, please visit www.clearfleau.com.
About EnviroChemie
EnviroChemie GmbH has established a reputation for reliable and innovative technology for water and wastewater treatment, specializing in developing and implementing customized solutions for customers in the pharmaceutical industry and life sciences.
This engineering company was founded in 1976 and offers a holistic range of "Made in Germany" branded products and services based on chemical-physical, biological and membrane filtration processes, whose pedigree relies on its long list of research achievements and patents.
EnviroChemie adopts a partnership approach in which client specialized needs and characteristics form the basis for individual design, planning, engineering, building and commissioning of pharmaceutical wastewater treatment plants.
With more than 30,000 plants sold worldwide, EnviroChemie can apply unrivalled experience to continuous development of innovative and reliable industrial water and wastewater technologies.
EnviroChemie products are developed and supplied from three sites in Germany and Switzerland.
Further information at: www.envirochemie.com.
About Utility Week Live 2019
Utility Week Live (UWL) is the UK's leading utilities industry exhibition, aimed at senior utilities professionals from energy retailers, gas and electricity network operators, water companies, water and wastewater companies, and water retailers.
Co-located with edie Live, the UK's only event connecting energy, sustainability and resource professionals, UWL features a wide-ranging conference and trade exhibition.
Building on the success of 2018, UWL19 will be themed around Transition in all its forms, discovering how disruptive influences have changed UK utilities forever and identifying the utilities themes and business models of the future
UWL 2019 is a two-day event, opening May 21 at the National Exhibition Center (NEC) outside Birmingham. The event is expected to attract more than 5,000 industry professionals and some 500 exhibitors, with a conference featuring more than 200 invited speakers.
The event is organized by business brand specialist Faversham House, with further information at: https://www.utilityweeklive.co.uk/welcome.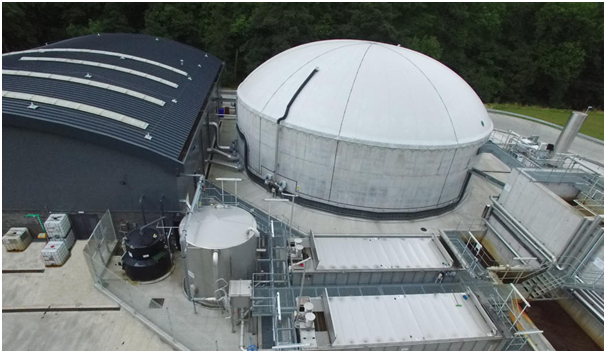 Clearfleau provides on-site aerobic and anaerobic treatment plants that produce bio-energy from a range of biodegradable industrial process residues