Contact Supplier
Contact Supplier
To get in touch with Bonfiglioli Engineering LASERCUBE and HMI star at CPhI India, simply fill out the form below.
Bonfiglioli Engineering LASERCUBE and HMI star at CPhI India
Ferrara, Italy: –Bonfiglioli Engineering (BE) attracted much visitor interest with its leading-edge pharmaceutical packaging testing and inspection solutions at the CPhI/P-MEC pharma expo in Delhi.Visitors were particularly interested in the advanced HMI user interface and the ultra-compact LASERCUBE benchtop headspace gas analyzer, which were centerpieces of the Bonfiglioli display at Stand C03 in Hall 11 of the India Expo Center, shared with Ace Technologies & Packaging Systems Pvt. Ltd.
Advanced integrity inspection
The Bonfiglioli Engineering Human-Machine Interface (HMI) is a stand-alone unit that can be fitted to inline rotary Bonfiglioli Engineering systems. With an icon-based touchscreen interface that will be familiar to any smartphone user, the HMI is dedicated to transforming and simplifying packaging integrity inspection processes.
The LASERCUBE HGA benchtop unit measures the headspace levels of oxygen, carbon dioxide and moisture levels inside packages, as well as Absolute Pressure values in ampoules, vials, cartridges and pre-filled syringes.
Growing Asian market
The Bonfiglioli team in Delhi was headed by Managing Director Andrea Cavanna and included R&D Manager Davide Formenti, Technical Sales Manager Gianmarco Pincelli and South Asian Area Sales Manager Martin Farrugia.
Mr. Cavanna commented: "it was a privilege to be represented at CPhI and P-Mec India, which represents a rapidly growing market for Bonfiglioli Engineering inspection and testing solutions."
"The technical depth of the many conversations we had with visitors to our stand left us in no doubt that this is also becoming a very advanced and sophisticated market," Mr. Cavanna added.
About Bonfiglioli Engineering
Founded in 1974 and located in Ferrara, Italy, Bonfiglioli Engineering (BE) has more than 40 years' experience of planning and manufacturing innovation & expertise that has made it a worldwide leader in the market of leak testing and inspection.
BE provides products and services that exceed user expectations, thanks to its efficient organization, its widespread sales and technical assistance network, its consistent after-sale service, earning it the genuine trust of its loyal customers.
With over 5000 installations around the world, BE serves a truly global customer base, making a dramatic impact on the efficiency and the safety of the packaging industry worldwide.
Throughout its history, BE's core strength has always been in combining advanced engineering skills with innovative technological developments to create superior leak testing and inspection systems.
BE inspection applications, based upon the state-of-the-art proprietary technologies in Container Closure Integrity Testing, Visual Inspection and Headspace Gas Analysis are present in Pharmaceuticals, Food & Beverages, Metal Cans & Aerosols and Chemicals and Personal Care packaging industries.
BE offers a wide production range of laboratories as well as in-line machines with the aim of verifying:
Presence of leaks
Headspace gas content
Existence of visible foreign materials
These solutions are suitable for 100% in-line testing at high production speeds without altering the container features. Testing is quick, reliable and repeatable, and gives consistent results for a comprehensive batch control.
About CPhI India 2019
The huge CPhI India pharmaceutical industry combined expo has become a landmark event for the South Asian pharma and biotech industries since it was introduced in 2015 as an extension of the highly successful worldwide UBM-organized event franchise.
CPhI/P-MEC India 2019 also incorporates the P-MEC India machinery and equipment show, along with the InnoPack packaging, FDF fill and finish and LABworld laboratory tech shows.
Together they form a combined three-day event that opened November 26 as part of the larger India Pharma Week, again at the India Expo Center in Greater Noida, Delhi NCR.
The combined shows are expected to attract some 30,000 visitors and some 1,000 exhibitors from almost 100 countries worldwide.
The event is organized by UBM Live, with more information at: https://www.cphi.com/p-mec-india/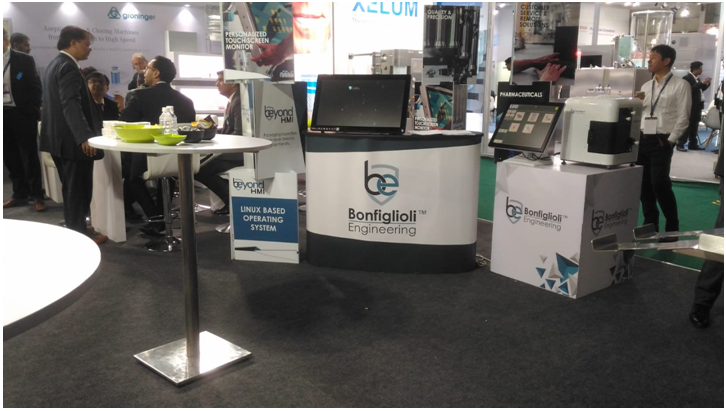 Bonfiglioli Engineering stand at P-Mec India featured hands on demonstrations of new HMI user interface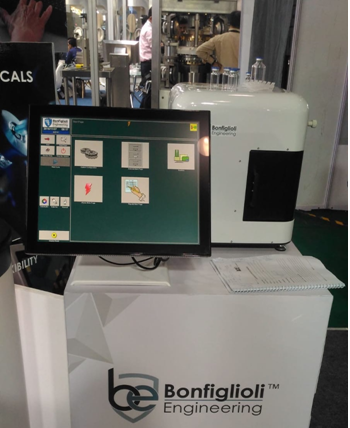 HMI and LASERCUBE were centerpieces of Bonfiglioli display at P-Mec India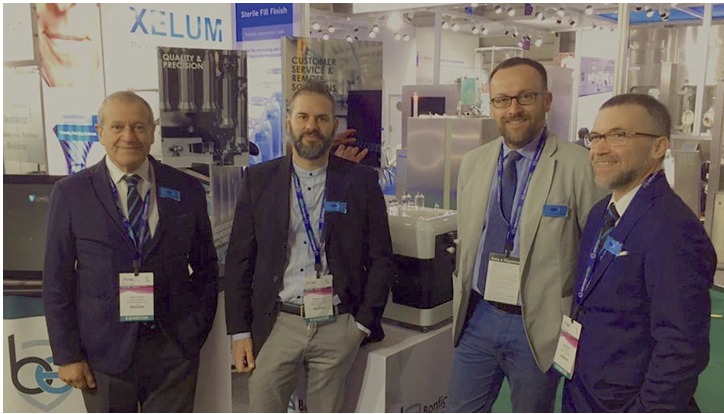 Bonfiglioli team at P-Mec India (left to right): Area Sales Manager Martin Farrugia, Technical Sales Manager Gianmarco Pincelli,; Managing Director Andrea Cavanna and R&D Manager Davide Formenti.
View Articles by Bonfiglioli Engineering S.r.l.