---
Biosynth exhibiting innovative luminescent probe technologies at ASM Microbe 2018
---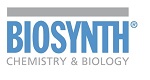 Press Release | BIOSYNTH AG
JUNE 01, 2018
Staad, Switzerland: – Microbiology and organic fine chemicals CDMO and specialist supplier, Biosynth AG will exhibit its latest luminescence-based pathogen detection technologies at the upcoming ASM Microbe meeting in Atlanta, Georgia.
The Biosynth stand at Booth 3023 in the Georgia World Congress Center will display a range of the company's world-leading chemiluminescence and bioluminescence probes.
Increased light emission
These are spearheaded by the breakthrough AquaSpark™ dioxetane chemiluminescence probes that are characterized by exceptional light emission properties. Bioluminescent probes including ProLuciferines and CybLuc red shifted luciferin for cell imaging and molecular biology will be also presented.
Biosynth will also contribute to the poster sessions (Session 081 – AES14-) and with an oral presentation on 'New Luminescent Enzyme Substrates for Sensitive and Specific Microbial Detection' by Biosynth Head of R&D, Dr. Lukas Wick.
New generation of luminescent probes
Dr. Wick's presentation will highlight the latest developments on the new generation of luminescence-based probes, and their potential new fields of application.
Biosynth will also be represented in Atlanta by its CEO, Dr. Urs Spitz, Fabien Scorza, Sales Manager for North America and Business Director David McEwan.
"ASM Microbe 2018 provides us with a great platform from which to emphasize our leadership in the fields of detection reagents and specialty chemicals for microbiology" said Dr. Lukas Wick.
About Biosynth
The Swiss-based chemical supplier and manufacturing CDMO specializes in microbiology and organic fine chemicals in the field of bioluminescence and chemiluminescence probes, fluorescent probes, chromogenic substrates, enzyme substrates, indole derivatives and special chemicals. The company's more than 100,000 products are widely used in microbiology, molecular biology, diagnostics, pharmaceutical industry, chemical industry, food and environmental testing.
Development projects, small and industrial scale manufacturing as well as global sourcing are all core competencies of the group, which is headquartered in Staad, Switzerland, its base for its production, sales, logistics, QA and QC, with operating subsidiaries in the USA (BIOSYNTH International, Inc, Itasca, IL) and in China (BIOSYNTH, Wuxi).
About ASM Microbe 2018
The ASM Microbe annual meeting of the American Society for Microbiology connects scientists with world's best and emerging microbial sciences. It provides a unique forum to explore the complete spectrum of microbiology from basic science to translation and application.
The 2018 meeting is a five-day event opening June 7 at the Georgia World Congress Center in Atlanta. The meeting will feature eight conference tracks, including Antimicrobial Agents & Resistance, Applied & Environmental Science, Clinical Infections & Vaccines, Clinical & Public Health Microbiology, Host-Microbe Biology and Microbial Ecology. It will also feature a co-located exhibition.
ASM Microbe is organized by the American Society for Microbiology with further information at: https://www.asm.org/index.php/asm-microbe-2018.
Media Contacts
Dr. Mario Mehmel, Marketing Manager, Biosynth AG
Tel: +41 71 858 26 58
Email: Mario.mehmel@biosynth.ch
OR
Fabien Scorza, Sales Manager, Biosynth North America
Email: fabien.scorza@biosynth.us
Resources
Click on Biosynth at ASM Microbe 2018 for more information.
Click on BIOSYNTH to contact the company directly.
Click on AquaSpark™ technology for technical information.
---
Supplier Information
Supplier: BIOSYNTH AG
Address: Rietlistr. 4, 9422 Staad, Switzerland
Tel: +41 (0)71 858 20 20
Fax: +41 (0)71 858 20 30
Website: www.biosynth.com
---