Contact Supplier
Contact Supplier
To get in touch with Uppsala University/Sovicell collaboration develops new method for quantifying intracellular drug binding, simply fill out the form below.
Uppsala University/Sovicell collaboration develops new method for quantifying intracellular drug binding
Leipzig, Germany: – Uppsala University researcher Andrea Treyer will show American pharmaceutical scientists how use of TRANSIL assay kits from ADME-Tox (ADMET) testing specialist Sovicell has produced better estimates of intracellular drug binding.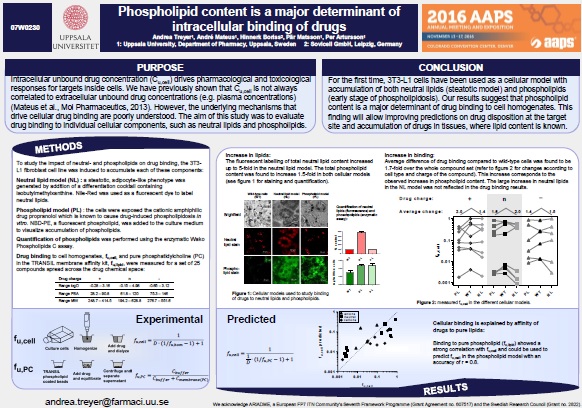 Ms. Treyer, who is a PhD student at the Department of Pharmacy, Uppsala University, will present her poster 'Phospholipid content is a major determinant of intracellular binding of drugs' to the upcoming American Association of Pharmaceutical Scientists annual meeting in Denver, Colorado.
The poster will show how a research co-operation with Sovicell has been able show how the active intracellular free drug concentration varies between different cell models with different lipid content and composition. This enables more accurate estimation of active concentrations at the receptor site.
TRANSIL testing
Socicell CEO Hinnerk Boriss, who is a co-author of the study, will also attend the poster presentatiation at 14:30hrs on Day Four of the meeting, Wednesday November 16, to discuss the results and use of TRANSIL assay testing kits.
The study set out to discover more about the poorly understood underlying mechanisms that drive cellular drug binding and specifically to evaluate drug binding to individual cellular components, such as neutral lipids and phospholipids.
About Sovicell
Sovicell GmbH is a dedicated provider of the ADME-Tox (ADMET) absorption, distribution, metabolism, and excretion toxicity tests used in pharmacokinetics.
Sovicell's range of ADMET-based products and services, enable customers to obtain rapid, accurate and reproducible pharmacokinetic data and side-effect predictions about candidate drugs or other test substances.
Located in the ancient city of Leipzig, Sovicell has established a trustworthy reputation in the pharmaceutical and biotechnology industries over almost two decades and now has partners in the US, Japan, and India.
Sovicell's business is based on ready-to-use toolkits for ADMET tests that support preclinical research programs in drug discovery and facilitate a shift from labor-intensive "home-brew" approaches to fully automated, minimal labor, processes.
Many of the tests are based on TRANSIL, Sovicell's proprietary and patented innovative bead-based technology platform that underpins reliable membrane permeability and protein binding assays. TRANSIL addresses current issues in drug discovery by providing assay systems both for soluble polar and lipophilic chemistries.
About AAPS 2016
The American Association of Pharmaceutical Scientists (AAPS) Annual Meeting and Exposition is a landmark event for the pharmaceutical industry. It provides an international forum for the exchange of knowledge among scientists and the pharmaceutical industry to enhance their contributions to public health.
AAPS 2016 is a five-day event opening November 13 at the Colorado Convention Center in Denver.
The meeting provides a prominent annual opportunity for scientists from various disciplines to meet their peers; discuss the latest research topics presented at contributed paper poster sessions; discuss projects with current and new suppliers.
The 2015 meeting in Orange County, California, attracted more than 7,500 delegates from dozens of countries.
More details available at: http://www.aaps.org/annualmeeting/