---
TAmiRNA unveils osteoporosis microRNA testing kit at ASBMR
---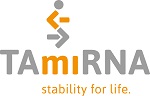 Press Release | TAmiRNA GmbH
SEPTEMBER 15, 2016
Vienna, Austria: – Recently founded biotech company TAmiRNA will use its appearance at this year's annual meeting of the American Society for Bone and Mineral Research (ASMBR 2016) in Atlanta to unveil its osteomiR™ testing kit, which enables rapid detection of microRNA biomarkers for bone disease.
TAmiRNA will also present new scientific results on microRNA biomarkers for bone disease to ASBMR's influential worldwide audience of scientists and researchers working for biotech and pharma companies, universities and clinical research groups.
New osteomiR™ kit
Co-founders Dr. Matthias Hackl (CEO) and Dr. Johannes Grillari (senior scientific advisor) will lead the TAmiRNA team at ASBMR 2016.
"Our audience in Atlanta will be highly interested in novel biomarker candidates for predicting fracture risk in osteoporosis and we will showcase our new product, the osteomiRTM testing kit, as a research-use only microRNA kit," said Dr. Hackl.
"This kit enables rapid detection of microRNAs that could serve as novel biomarkers for early diagnosis and prognosis of fracture risk in post-menopausal osteoporosis," Dr. Hackl added.
MicroRNA insights
TAmiRNA will also be an exhibitor at the event, at Booth 613, where it will present its testing kit and also display a video on microRNA research. Visitors to the stand will also be able to gain free admission slots for TAmiRNA's microRNA training course to be held in Vienna in fall 2016.
"We have been attending this important annual meeting for the past four years. The ASBMR has played an important role in the success of our company, assigning Investigator Awards to TAmiRNA in 2014 and 2016." said Dr. Grillari.
"Our work has opened up new possibilities for identifying high-risk subsets that qualify for preventive therapeutic treatment, along with new biomarker targets that give insights into the actual disease mechanism of osteoporosis," Dr. Grillari explained.
About TAmiRNA
Privately owned and headquartered in Vienna, TAmiRNA GmbH is a biotech company specialized in the identification and validation of non-coding RNAs as biomarkers for age-related diseases. The mission of TAmiRNA is to provide clinically useful biomarkers to improve and prolong patient stability, health and quality of life with increasing age.
TAmiRNA specializes in technologies for profiling levels of blood-circulating microRNAs and developing multi-parametric classification algorithms ("signatures"). TAmiRNA uses these technologies to develop minimal-invasive diagnostic tests for early diagnosis and prognosis of disease, or as companion diagnostic tests to support treatment decisions.
TAmiRNA's pipeline includes developments in osteoporosis, cardiovascular disease, type-2 diabetes, and cancer developing 'microRNA kit' solutions that enable users to quantify the levels of specific microRNA combinations and platelet function in serum, plasma, urine or other biofluids. The company initially developed kits for bone disease (osteomiR) and cardiovascular disease (thrombomiR).
TAmiRNA also offers contract research services for companies in need of targeted biomarker development. Customers include (bio) pharmaceutical companies with drug development programs in human and veterinary medicine, medtech companies and clinical research groups.
TAmiRNA was founded in November 2013 with funding boosted by investigator awards from the American Society for Bone and Mineral Research (ASBMR) and the European Calcified Tissue Society (ECTS).
TAmiRNA's founders, Matthias Hackl, Otto Kanzler, Regina & Johannes Grillari share a strong interest in musculoskeletal disorders, especially osteoporosis, and cardio-vascular diseases along with a guiding vision "to bring more life into the age of human".
In May 2015, TAmiRNA was runner-up in the Best of Biotech International Awards. Later that year, the company received Phase 1 funding for its SME instrument and was also named HighTec winner in the GEWINN Young Entrepreneur Awards.
About ASBMR 2016
The American Society for Bone and Mineral Research is one of the world's leading professional, scientific and medical organizations for bone and mineral researchers and clinicians and forms a highly-effective voice for advocacy and science policy for nearly 4,000 scientists and clinicians from 60 countries.
The society's annual meeting attracts leading scientists, researchers and laboratories from around the globe to exchange latest scientific insights, connect with colleagues and learn about leading edge products and services.
The 2016 meeting is a four-day event opening September 16 at Atlanta's George R. Brown Convention Center. It will feature more than 100 presentation and discussion sessions, including 'Meet-the-Professor' events, plenary presentations and topical symposia.
Sessions of Interest include plenary lectures on Personalized Medicine and use of profiling and big data by Dr. Michael Snyder and Sex Steroids, Coupling and Age-Related Bone Loss from Dr. Sundeep Khosla.
The 2016 conference will also be webcast via Live Online, ASBMR's virtual conference experience.
More information available at: http://www.asbmr.org/annual-meeting
Media Contacts
Birgit Marckhgott, TAmiRNA, GmbH
Tel: +43 660 420 5856
Email: office@tamirna.com
Resources
Click on TAmiRNA unveils osteoporosis microRNA testing kit at ASBMR for other information.
Click on TAmiRNA to contact the company directly.
---
Supplier Information
Supplier: TAmiRNA GmbH
Address: Muthgasse 18, 1190 Vienna, Austria
Tel: +43 660 420 5856
Website: www.tamirna.com/
---