---
TAmiRNA showcases thrombomiR™ microRNA platelet testing kit at GTH 2019 Berlin
---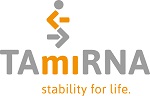 Press Release | TAmiRNA GmbH
FEBRUARY 20, 2019
Vienna, Austria: – Innovative microRNA specialist company TAmiRNA will be a prominent presence at this year's annual meeting of Germany's Society for Thrombosis and Hemostasis Research (GTH 2019) in Berlin.
The TAmiRNA stand at Booth 51 in Convention Hall 2 of the ESTREL Convention Center will feature its thrombomiR™ miRNA kit and related services that enable simple and standardized analysis of microRNA biomarkers for platelet function.
thrombomiR™ team
The TAmiRNA team in Berlin will comprise Dr. Hanna Dellago, Senior Project Manager and Product Manager Dr. Elisabeth Schraml.
Dr. Dellago commented: "The GTH annual meeting is a leading forum for biotech and pharma companies, academic and clinical research groups participating in clinical studies in cardiovascular diseases."
Personalized monitoring
"What all of these groups share is a need for personalized monitoring of anti-platelet therapy, and the assessment of bleeding-risk due to impaired platelet activation," said Dr. Dellago.
"Our thrombomiR™ technology enables all that, as well as risk assessment of adverse cardiovascular events and early diagnosis of type-2 diabetes," she added.
About TAmiRNA
Privately owned and headquartered in Vienna, TAmiRNA GmbH is a biotech company specialized in the identification and validation of non-coding RNAs as biomarkers for age-related diseases. The mission of TAmiRNA is to provide clinically useful biomarkers to improve and prolong patient stability, health and quality of life with increasing age.
TAmiRNA specializes in technologies for profiling levels of blood-circulating microRNAs and developing multi-parametric classification algorithms ("signatures"). TAmiRNA uses these technologies to develop minimal-invasive diagnostic tests for early diagnosis and prognosis of disease, or as companion diagnostic tests to support treatment decisions.
TAmiRNA's pipeline includes developments in osteoporosis, cardiovascular disease, type-2 diabetes, and drug safety, which aim to provide 'microRNA kit' solutions that enable users to quantify the levels of specific microRNA combinations and platelet function in serum, plasma, urine or other biofluids. The company initially developed kits for bone disease (osteomiR™) and cardiovascular and metabolic diseases (thrombomiRs™).
TAmiRNA also offers contract research services for companies in need of targeted biomarker development. Customers include biopharma companies with drug development programs in human and veterinary medicine, medtech companies and clinical research groups.
More information available at: www.tamirna.com.
About GTH 2019
The Gesellschaft für Thrombose- und Hämostaseforschung (Society for Thrombosis and Haemostasis Research) was originally founded in 1956 at Heidelberg as the German Association for Blood Coagulation Research (DAB). Now its mission has been expanded to promote all aspects of the prevention, diagnosis and treatment of blood coagulation disorders and thrombotic diseases.
The society's 63rd annual meeting (GTH 2019) is a four day event opening February 27 at the ESTREL Congress Center in south eastern Berlin.
Themed "Science meets clinical practice", the 2019 conference will focus primarily on creating bridges between preclinical and clinical research and the daily treatment of patients.
The event is organised by MCI Group for the GTH, with further information at https://www.gth2019.org.
Media Contact
Dr. Elisabeth Schraml, Scientific Communications, TAmiRNA GmbH
Tel: +43 (0)660 420 58 56
Email: office@tamirna.com
Resources
Click on TAmiRNA showcases thrombomiR™ at GTH 2019 Berlin for other information.
Click on TAmiRNA to contact the company directly.
---
Supplier Information
Supplier: TAmiRNA GmbH
Address: Muthgasse 18, 1190 Vienna, Austria
Tel: +43 (0)660 420 58 56
Website: www.tamirna.com
---