---
TAmiRNA presents microRNA bone disease applications at MolPharm 2018
---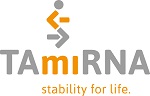 Press Release | TAmiRNA GmbH
JUNE 21, 2018
Vienna, Austria: – Biotech company TAmiRNA will present application of its microRNA technologies for diagnosing bone diseases at the upcoming Cancer and Bone Society (CABS) MolPharm workshop at Oxford, in the UK.
TAmiRNA founder and CEO, Dr. Matthias Hackl will address the International Workshop on Advances in the Molecular Pharmacology and Therapeutics of Bone and other Musculoskeletal Diseases.
MicroRNA diagnosis tools
Dr. Hackl will deliver his address on the 'Clinical utility of circulating microRNAs for diagnosis of bone diseases, on day two of the workshop, Sunday July 1, at 12:20 hrs.
In his presentation, Dr. Hackl will outline the use of microRNAs as forming novel biomarker candidates for predicting fracture risk in osteoporosis.
"Our simulations provide evidence for the utility of the osteomiR™ test for fracture risk assessment, and, furthermore, highlight the potential of circulating microRNAs to be exploited as minimal-invasive diagnostic tools," said Dr. Hackl.
Understanding bone disease mechanisms
"Further, these new biomarker targets provide new insights into the fundamental disease mechanisms of osteoporosis," he explained.
Circulating microRNAs as extremely promising biomarker candidates. microRNAs can differ between fractured and non-fractured patients of osteoporosis, are responsive to anti-resorptive as well as anabolic treatment, and are associated with parameters of bone quality as detected by imaging techniques.
About TAmiRNA
Privately owned and headquartered in Vienna, TAmiRNA GmbH is a biotech company specialized in the identification and validation of non-coding RNAs as biomarkers for age-related diseases. The mission of TAmiRNA is to provide clinically useful biomarkers to improve and prolong patient stability, health and quality of life with increasing age.
TAmiRNA specializes in technologies for profiling levels of blood-circulating microRNAs and developing multi-parametric classification algorithms ("signatures"). TAmiRNA uses these technologies to develop minimal-invasive diagnostic tests for early diagnosis and prognosis of disease, or as companion diagnostic tests to support treatment decisions.
TAmiRNA's pipeline includes developments in osteoporosis, cardiovascular disease, type-2 diabetes, and cancer, which aim to provide 'microRNA kit' solutions that enable users to quantify the levels of specific microRNA combinations and platelet function in serum, plasma, urine or other biofluids. The company initially developed kits for bone disease (osteomiR) and cardiovascular and metabolic diseases (thrombomiR).
TAmiRNA also offers contract research services for companies in need of targeted biomarker development. Customers include biopharma companies with drug development programs in human and veterinary medicine, medtech companies and clinical research groups.
More information available at: www.tamirna.com.
About MolPharm 2018
The 8th International Workshop on Advances in the Molecular Pharmacology and Therapeutics of Bone and other Musculoskeletal Diseases (MolPharm 2018) is organised in association with the UK-based Cancer and Bone Society (CABS).
The workshop is a two-day weekend event opening June 30 at St. Catherine's College Oxford, to be followed by the two day CABS annual meeting and finally a one-day Seminar on Musculoskeletal Research in Oxford on Wednesday July 4.
The MolPharm Workshop is a biennial event, first instituted in 2003 ,that explores the molecular mechanisms of drugs known to act on the skeleton to provide a rational basis for developing novel future therapies, based on recent advances in the genetics and biology of bone and the musculoskeletal system.
The Workshop is organised by MolPharm-CABS with further information at: https://molpharmworkshop.org.
Media Contact
Dr. Elisabeth Schraml, Scientific Communications, TAmiRNA GmbH
Tel: +43 (0)660 420 58 56
Email: office@tamirna.com
Resources
Click on TAmiRNA at MolPharm 2018 for other information.
Click on TAmiRNA to contact the company directly.
---
Supplier Information
Supplier: TAmiRNA GmbH
Address: Muthgasse 18, 1190 Vienna, Austria
Tel: +43 (0)660 420 58 56
Website: www.tamirna.com
---