Contact Supplier
Contact Supplier
To get in touch with TAmiRNA GmbH, simply fill out the form below.
TAmiRNA microRNA biomarker analysis
First discovered in the early 1990s, microRNAs (or miRNAs) have been recognized since the early years of this century as a distinct class of biological regulators that are deeply implicated in human health and the diagnosis of disease.
Diagnostic innovator TAmiRNA is dedicated to the identification and validation of microRNA biomarkers that can be used for drug development, early diagnosis and prognosis of disease, and as companion diagnostic tests to support treatment decisions. This work requires high-level expertise in working with miRNAs, requiring sophisticated techniques and tools for screening of microRNA transcript levels in virtually any type of cell tissue or biological sample.
miRNA expression and applications
MicroRNAs occur abundantly in humans and animals, exhibiting highly regulated expression, strongly linked to specific types of tissue or cell, serving as crucial functional tissue homeostasis and cell differentiation regulators. miRNAs dysfunction is frequently associated with disease onset and progression, making them highly useful as disease biomarkers.
The active release of circulating microRNAs from cells into supernatant biofluids makes them useful as non-invasive disease biomarkers, particularly in applications such as toxicological tissue health surrogates, early diagnosis of asymptomatic diseases, and monitoring treatment response or adverse events.
These characteristics and possibilities have led to the development of a new class of miRNA-based diagnostic tools, in which field TAmiRNA is a leader.
MiRNA target prediction
The development of NextGen vaccines to combat COVID-19 has focused global attention on the transformative potential of therapies based on messenger RNA (mRNA) technologies, in this case used to target the 'spike' proteins of this variant of the SARS COV-2 coronavirus.
In this field, miRNAs are useful in being able to bind to target mRNA transcripts of protein-coding genes and negatively control their translation or cause mRNA degradation.
TAmiRNA has advanced expertise in miRNA target prediction, with the ability to accurately to identify miRNA targets, which is a formidable challenge when in silico computer algorithms have been shown to have indifferent performance in missing many functional miRNAs.
TAmiRNA microRNA capabilities
TAmiRNA has a successful track record and impressive pipeline in development of novel miRNA biomarkers for toxicology studies and as predictors of ailments, using these to develop companion diagnostics and monitor disease progression.
As a CRO TAmiRNA is able to offer a wide range of validated, high quality microRNA services, providing specific solutions for:
RNASeq, smallRNASeq, and qPCR analysis of biofluids, cells, tissues and extracellular vesicles (EVs) to discover and validate multivariate miRNA, ncRNA and mRNA biomarker signatures,
Laser-assisted microdissection of complex tissues to decipher gene expression in complex tissues in-situ.
Customer-tailored microRNA biomarker discovery and validation using proprietary smallRNASeq normalization strategies, machine learning, and customized protocols
RNA purification and characterization of EVs to International Society for Extracellular Vesicles standards followed by transcriptomic analysis.
miRNA extraction and isolation
Isolating microRNAs follows the same basic principles of as isolation of total RNA, but slightly modifying protocols to retain or enrich the small RNA fraction.  Most commercially-available extraction kits, such as Qiagen's miRNeasy, Ambion's MirVana™, and Invitrogen's PureLink™ microRNA isolation kits use chemical extraction with concentrated chaotropic salts, followed by a solid-phase extraction procedure on silica columns. These exhibit varying efficiency at extracting miRNAs with frequent variances in microRNA expression profiles, which is why studies that rely on direct comparisons of microRNA levels should use the same extraction kit and buffer throughout.
TAmiRNA's serum/plasma RNA extraction technology is designed to enable optimal recovery of total RNA from cell-free biofluids and forms the basis for all its one-stop diagnostic kit solutions such as osteomiR® (osteoporosis and fracture risk) and thrombomiR® (platelet function and cardiovascular disease).
RNA seq data analysis
TAmiRNA is also expert in the RNA-sequencing (RNA-seq) that has a wide variety of applications, with a wide variety of data analysis pipelines to enable tailoring to specific application.
The TAmiRNA laboratories can apply all the major steps in RNA-seq data analysis, including expression quantitative trait locum (eQTL) mapping, quantifying gene and transcript levels, differential gene expression, and integration of RNA-seq with other functional genomics techniques.
Resources
Click on TAmiRNA cell type-specific miRNA analysis in complex tissues to download LMD service brochure.
Click on TAmiRNA customer-tailored microRNAs  to download service brochure.
Click on Evercyte for further information about sister organization.
TRENDING ARTICLE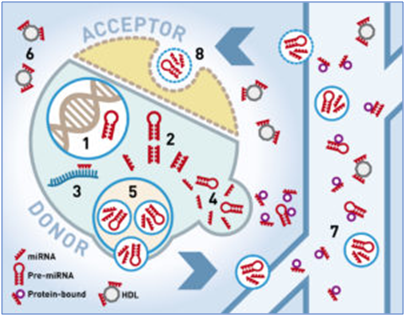 Circulating miRNA mechanism of action showing microRNA transcription in the cell nucleus (1),  microRNA processing in the cell cytoplasm (2), miRNAs regulating RNA interference or gene silencing (3) , microRNAs packaged by donor cell into microvesicles/exosomes for cellular export (4,5), circulating miRNAs stabilized by RNA-binding proteins (6), and circulating microRNAs present in serum/plasma, urine or saliva (7), available to be   taken up by acceptor cells at close or distant sites in the body (8) [© TAmiRNA/Klapper]