Contact Supplier
Contact Supplier
To get in touch with Procos S.p.A., simply fill out the form below.
Procos underlines South Asian presence at CPhI India
Cameri, Italy:- Established Italian contract manufacturer (CMO) Procos will use the upcoming CPhI India Expo to bring its expanding capabilities to the attention of burgeoning South Asian pharmaceutical manufacturing and consumer markets.
Procos will be a joint exhibitor at the show, in partnership with its Indian-based CBC Pharma team inside CBC Group, on Stand 1L52 at the Bombay Exhibition Center. The display will feature presentations of the company's sophisticated new facilities, as well as details of its generics contract manufacturing, new custom synthesis capabilities and highlights from its impressive generic and high potency API new business.
New custom synthesis capabilities
The stand will display the new Procos video show reel that a virtual tour of Procos, including its production units and CQ and R&D labs, also available on the new-look Procos website.
Procos's new 4,000 m2 manufacturing unit is core element of its overall investment and growth strategy, focusing on its principle markets in North America, Europe and Japan as well as 'pharmarging' markets across Asia.
The new Cameri facility has enabled a one third expansion in manufacturing capacity, up to 450m3, as well as new technology platforms to enable more innovative and creative solutions for demanding markets like oncology.
Fast expanding APIs and generics market
Kingo Yamashita, head of Procos' Sales & Marketing Division, and Clara Usanna (Sales Manager) will lead the team in at CPhI Mumbai.
Through its Indian outlet, Procos has made major inroads into the fast expanding and maturing Indian market.
"CBC India provides us with a strategic and supportive branch office for our business in this exciting market and we expect our presence in Mumbai will help us raise our profile here even further," commented Kingo Yamashita.
"This is our tenth anniversary appearance at this great event and this year we will be bringing interesting offers from our bolstered generic APIs pipeline as well as the new synthesis capabilities we are acquiring from our new workshop," said Mr. Yamashita.
"Our intention is to promote our generic APIs pipeline and custom synthesis services as well as promote our investment on the new work-shop," said Clara Usanna.
About Procos
Procos S.p.A. is an Italian Contract Research and Manufacturing Organization (CRO, CMO) that specializes in development, scale-up and production of APIs and cGMP advanced intermediates for the pharmaceutical industry.
Procos is an important member of the international CBC Group, headquartered in Japan. This network provides Procos with global reach, reinforced with subsidiary sales offices in the USA, Slovakia, Germany and India.
Over 70 years, Procos has built up a comprehensive range of technologies and capabilities to provide high quality products and services that have been widely accepted in worldwide pharmaceutical markets. It continuously develops and adds unique generic APIs and key intermediates to its product portfolio.
Procos' two core business sectors are the development and supply of APIs and GMP advanced intermediates along with contract manufacturing services.
Procos manufactures more than 30 products, mostly under uniquely designed synthetic methods and under strict regulatory compliance management. In contract manufacturing, Procos provides related services for the pharmaceutical industry acting as a CRO/CMO for custom synthesis on exclusive base, supporting customer from early clinical stage up to full -scale commercial production. Development services include IP analysis expertise and effective patent challenge skills.
Innovation is a driving force of Procos' activities. The company's products are based on patented technologies and cost-effective processes. Procos chemistry expertise is focused on the most complex organic reactions, including organo-metallic catalysis, multi-catalytic hydrogenation, Enantioselective and hazardous chemistry.
About CPhI India 2015
Now in its tenth year, the huge CPhI India pharmaceutical industry expo brings the highly successful worldwide UBM-organized franchise to one of the world's biggest single pharma markets, combining two events in one, with the event co-hosted alongside the huge P-MEC machinery and equipment show.
CPhI/P-MEC India 2015 will be a three-day event, opening December 1 at the landmark Bombay Convention & Exhibition Centre in Mumbai. The combined shows are expected to attract more than 28,000 visitors and some 1,000 exhibitors from almost 100 countries worldwide.
CPhI India bills itself as serving the knowledge-sharing and networking needs of the Indian pharma market, currently growing at 13 per cent annually, twice as fast as world average. India is adding new drugs research to its established strengths in generics and APIs.
The event is organized by UBM Live. More information at: http://www.cphi.com/india/homepage
Media Contact
Kingo Yamashita, Sales & Marketing Director, Procos SpA
Tel: +39 0321 642211
Email: procos@procos.it
Resources
Click on Procos underlines South Asian presence at CPhI India for other information.
Click on Procos to contact the company directly.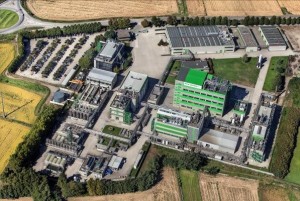 ---
Supplier Information
Supplier: Procos S.p.A.
Address: Via G. Matteotti 249, 28062 Cameri, Novara, Italy
Tel: +39 0321 642211
Fax: +39 0321 64219
Website: www.procos.it
---