---
Nordic BioSite adds vascular-focused Special Stains kits
---

Press Release | Nordic Biosite AB
JUNE 20, 2017
Täby, Sweden: – Scandinavia's leading supplier of validated biotechnology supplies, Nordic BioSite, has enhanced its huge product range with a new series of Special Stains kits focused on vascular medicine.
The Movat Pentachrome Stain Kit is intended for use in histological demonstration of collagen, elastin, muscle, mucin and fibrin in tissue sections. This procedure is particularly useful when studying the heart, blood, vessels and various vascular diseases.
Modified Russell-Movat
The new kit follows the Modified Russell-Movat protocol in which elastic fibers stain black, the nuclei stains blue/black, the collagen and reticular fibers stain yellow, the mucin stains bright blue, the fibrin stains bright red, and the muscle stains darker red.
BioSite offer two versions of the Movat Pentachrome Stain Kit; KSC-MPS-1 and KSC-MPS-2 that support 400 slides and 100 slide applications respectively. Each kit comprises a collection of 11 reagents, including Hematoxylin, Ferric Chloride and Lugol's lodine Solutions.
Each individual component of the Movat special stain kit is also available for purchase in bulk from BioSite.
About Nordic BioSite
Since the late 1990s, Nordic BioSite has become recognized as one of the pharma industry's most innovative and customer-responsive supplier of high quality validated biotechnology products for research, diagnostics, immunology and molecular biology.
The company serves pharmaceutical, biotech, diagnostic and academic organizations with tens of thousands of different products in more than 30 different groups, ranging from antibodies to genetic vectors. These are sourced from selected manufacturers and laboratories in Europe, the Americas and Asia.
Nordic BioSite continuously introduces new products as a result of its own R&D, leveraged by close partnerships with manufacturers and feedback from customers.
Nordic BioSite's company strapline, By Your Side™, defines a company ethos of partnering life science customers, helping to find the right products and services to help reach chosen goals across the whole spectrum of biotech research areas.
Nordic BioSite also operates as a CRO through its Finnish-based cGLP laboratory, BioSiteHisto. This offers a wide range of leading-edge research-based custom laboratory services including histology, immunochemistry, in vitro research and testing, antibody optimization, antibody conjugation and predesigned adenylated linkers for Next Generation Sequencing (NGS).
Media Contact
Marketing Team, Nordic BioSite AB
Tel: +46 (0) 854 443 340
Email: marketing@nordicbiosite.com
Resources
Click on Nordic BioSite adds Special Stains kits for more information.
Click on Nordic Biosite to contact the company directly.
Click on Movat Pentachrome Stain Kit for technical information.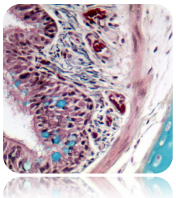 ---
Supplier Information
Supplier:
Nordic Biosite
Address: Propellervägen 4A, 183 62 Täby, Sweden
Tel: +46 (0)8 544 433 40
Fax: +46 (0)8 756 94 90
Website:
www.nordicbiosite.com
---