HORIBA joins forces with CytoViva to offer powerful new combined technology Raman products
Palaiseau, France and Auburn, AL:- HORIBA Scientific, global leader in measurement and analysis solutions for research and industry, and world leader in Raman spectroscopy, has announced a new range of combined products using leading technology from CytoViva®, Inc.
The range offers faster and more powerful Raman analysis, combining HORIBA's Raman microscopes with CytoViva's Hyperspectral Imaging (HSI) microscopy module and Enhanced Darkfield (EDF) illumination.
This innovative integration has major implications for research applications related to nanomaterials, drug delivery, nanotoxicology studies and SERS nanoparticles characterization.
Combined technologies
Raman spectroscopy is a powerful technology for research and industry and provides detailed information on sample properties such as chemical structure, phase, polymorphism, intrinsic material stress, contamination and impurities.
HSI microscopy allows rapid imaging across the sample with high sensitivity, while colored images generated from the spectra guide the user to easily locate nanoparticles, pre identify them, and features of interest.
The patented CytoViva EDF illumination improves the signal-to-noise ratio up to ten times over standard darkfield microscopes. The detection limit in size improves sufficiently to allow visualizing nanoparticles as small as 10 nm when isolated.
Advanced application synergies
Integrating Raman with hyperspectral imaging and enhanced darkfield allows users to rapidly visualize the sample and target regions of interest and perform a presorting of Nanoparticles / object based on their spectral information. They can then leverage Raman measurements from the identical field of view to provide and confirm the chemical identify of nanoparticles or other sample elements.
Dr. Andrew Whitley, Vice President and Global Director of Business Development for HORIBA Scientific, commented: "CytoViva's innovative enhanced darkfield illumination and hyperspectral imaging are perfectly complemented by HORIBA's world-leading Raman instrumentation."
"Benefits of combined technologies far exceed the sum of their parts. For example, the chemical specificity afforded by Raman can now be quickly targeted to individual nanoparticles located by the CytoViva components within minutes or even seconds," said Dr. Whitley.
Combined offerings now available from HORIBA include new systems and upgrades to existing HORIBA Raman systems and CytoViva microscope systems
About HORIBA Scientific
The HORIBA Group is a global company that offers solutions and engineering services, based on its strong performance in developing and manufacturing instruments and products in the analysis and measurement fields. With "Explore the Future" as its brand message, HORIBA has been pursuing state-of-the-art analysis and measurement technology since its establishment in 1945. Founded in the historic city of Kyoto, Japan, it has grown steadily throughout its 75 years of business and is now provides services worldwide as the leader in the analysis technology field.
HORIBA Scientific provides an extensive array of instruments and solutions for applications across a broad range of scientific R&D and QC measurements. HORIBA Scientific is a world leader in OEM Spectroscopy, elemental analysis, fluorescence (including the PTI brand), forensics, GDS, ICP, particle characterization, Raman, spectroscopic ellipsometry, sulfur-in-oil, SPRi and water quality measurements, as well as X-Ray Fluorescence (XRF).
More than 500 types of HORIBA scientific analyzers and other instruments are found in universities, research institutions, various manufacturing industries and government institutions worldwide. Proven quality and trusted performance have established widespread confidence in the HORIBA brand.
HORIBA supplies some of the most advanced science and technologies, and multi-faceted data solutions to assist the most cutting-edge research in blue sky territories.
Building on a long tradition of pursuing innovative technology to advance scientific efforts, HORIBA Instruments Incorporated has acquired and assimilated renowned companies such as Société Générale d'Optique (1969), SPEX (1988), Dilor (1995), SOFIE (1996), Jobin Yvon (1997), IBH (2003), GenOptics (2009), and Photon Technology International (2014).
It engages in five different business segments with high value-added products and services: Automotive Test Systems, Medical-Diagnostic Instruments and Systems, Semiconductor Instruments and Systems, Scientific Instruments and Systems, and Process and Environmental Instruments and Systems. HORIBA has established business bases in Japan, Asia, Europe, and the Americas.
Further information at: http://www.horiba.com/scientific
About CytoViva
CytoViva® is the premier provider of integrated, optical microscopy and hyperspectral imaging technologies, with installations at hundreds of leading research institutions around the world. Based on patented enhanced darkfield microscopy optics developed at Alabama's Auburn University, the CytoViva product line was specifically designed to support research initiatives in nanotechnology.
CytoViva's integrated hyperspectral imaging capability enables high resolution optical spectral characterization and spectral mapping of nanoscale sample elements in both biological and materials-based environments.
CytoViva was founded in 2003 and is headquartered in the Auburn Research Park in Auburn, AL.
Further information at: http://www.cytoviva.com/
Resources
Click on HORIBA and CytoViva: Combining Technologies for Smarter Nanoparticle Detection for detailed information.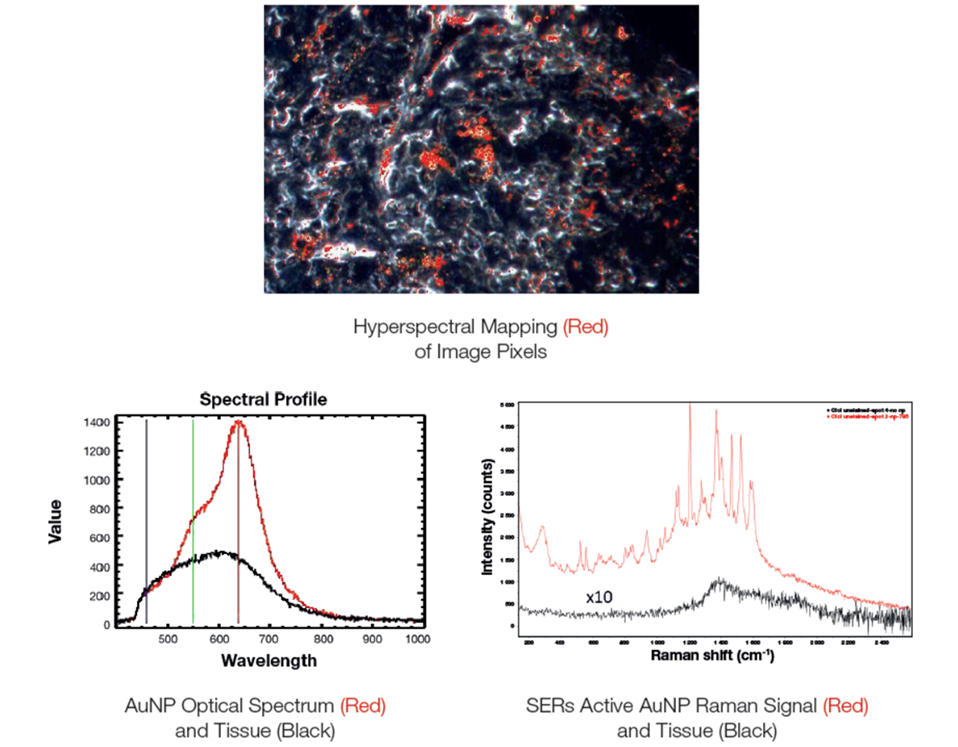 Combined technologies application example: gold nanoparticles are imaged in tissue (top), with the corresponding optical spectrum (bottom left) and Raman spectrum (bottom right) showing clear differences between the nanoparticles and tissue. Visualization, mapping and pre identification of the nanoparticles is made simple with the hyperspectral imaging and its optical spectra analysis, while Raman confirms a detailed chemical fingerprint.