Contact Supplier
Contact Supplier
To get in touch with Dividella AG, a Körber Group company, simply fill out the form below.
Dividella bringing advanced cartoning solutions to CPhI Worldwide, Frankfurt
Grabs, Switzerland: – Toploading and secondary packaging solutions specialist Dividella is returning to the 30th Anniversary CPhI expo, this year in Frankfurt, to show advanced modular pharma packaging solutions.The Dividella display will be a key element of the Korber Medipak Systems presence, at booth G13 within the P-MEC zone in Hall 11.0 in the Portihaus at the Messe Frankfurt showground .
Sustainability benefits
Dividella's offer will emphasize reduced total cost of ownership (TCO) and total cost of packaging (TCP) as well as sustainability benefits that can be realized through monomaterial packaging solutions.
It will also show the tracking, tracing and lean production advantages made possible by the adaptability, flexibility and extended capabilities of its modular NeoTOP toploading systems combined with 'smart' packaging.
Pharma 4.0
Dividella will also show how its systems are moving toward the world of Pharma 4.0, thanks to digital integration across the packaging value chain, spearheaded by the innovative LION Line Management System (LMS) pioneered by its parent Körber Medipak Systems group.
LION simplifies interface management across related systems from Medipak and third-party suppliers to enable more cost-efficient and flexible production, enabling job-based manufacturing with a wide range of diverse products, frequent product changes, smaller lot sizes, shorter delivery times and fewer technical personnel in production. It also enables easier scale-up and future-proofing by allowing seamless integration of new modules into the production line.
Crucially, LION opens the way for even small manufacturers to adopt digitally-based Pharma 4.0 production methodology.
Modular solutions
The Dividella team at P-MEC will again be headed by CEO Christoph Hammer, who commented: "It is a great pleasure to be returning to this exciting and very high quality event that we have consistently supported for the past two decades,"
"With our new emphasis on modularity, monomaterials packaging and the boundless potential of digital integration, Dividella will again lead the field of modern pharmaceutical packaging specialists," Mr. Hammer declared.
About Dividella
Dividella AG, a member of the Korber Medipak Systems Group, specializes in developing and manufacturing packaging machinery for the pharmaceutical industry with specific expertise in packaging requirements for parenteral products. Based in Grabs in the Canton of St. Gallen in eastern Switzerland, Dividella counts 20 of the world's largest pharmaceutical companies among its clients, including the entire top ten.
For four decades, Dividella has provided innovative and highly effective solutions for secure and flexible handling and packaging of pharmaceutical products. Its patented top-loading systems form the basis for solutions that have continually evolved to provide the most up-to-date, patient-friendly and environmentally responsible solutions for parenteral packaging.
Dividella provides complete secondary packaging solutions for medicinal products that can be difficult to stack, such as needles, injector pens, vials and syringes. Its top-loading solution enables product handling with extreme care and safety. Dividella patented feeding systems guarantee that all products are handled with appropriate care while maintaining high output.
About CPhI Worldwide 2019
CPhI Worldwide is the flagship annual trade show for pharma ingredients and partner sourcing providing delegates and exhibitors opportunities to arrange face-to-face meetings with potential international pharmaceutical partners and collaborators and gain insights on latest industry trends.
Now in its 30th year, the 2019 expo is a three-day event opening November 5 at the Messe showground in Frankfurt-am-Main, Germany, which last hosted CPhI in 2017.
CPhI Worldwide 2019 includes the co-located zoned exhibitions; P-MEC Machinery and Equipment, ICSE Outsourcing solutions, FDF for finished dosage formulations, InnoPack for pharmaceutical packaging and events and the new BioProduction conference focusing on bioprocessing and manufacturing.
Together, they are expected to attract 45,000 delegates along with more than 2,500 exhibiting companies from some 160 countries.
The CPhI series is staged by leading Global B2B Events Organizer and Publisher UBM Live More information at: https://www.cphi.com/europe/
Resources
Click on Medipak Systems for further information on Korber Group and LION.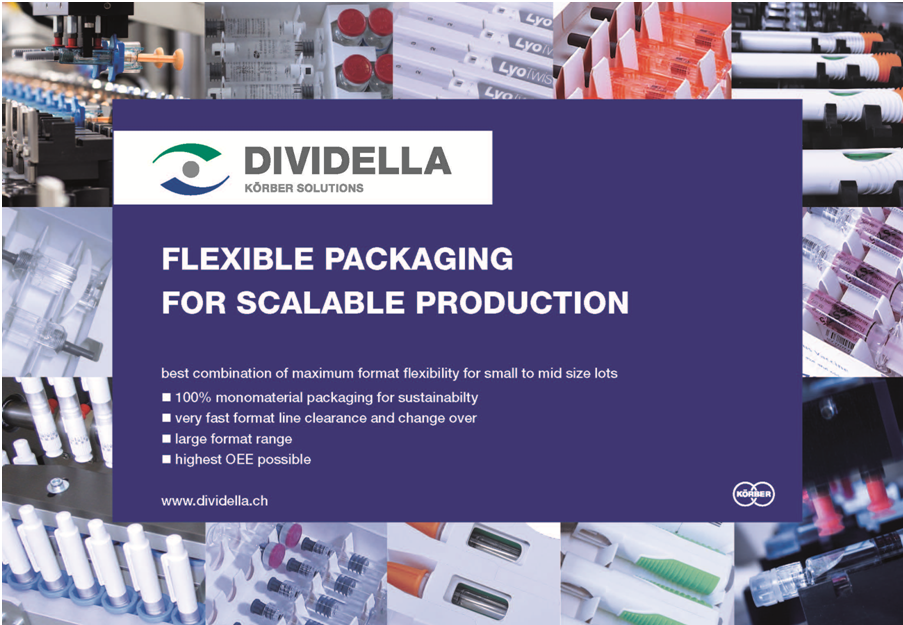 View Articles by Dividella AG, a Körber Group company