B Medical Systems' Ultra-Low Freezer U201
B Medical Systems offers a wide range of Ultra-Low Freezers as EU MDR/FDA certified Class IIa medical devices for the safe storage of vaccines, blood products, human cells, tissues and other laboratory samples at ultra-low temperatures reaching as low as -86°C.
These Ultra-Low Freezers are equipped with a high-performing cooling system that ensures temperature uniformity, reliability and energy efficiency. Furthermore, these products feature 24/7 real time monitoring solutions.
The smallest capacity in the Ultra-Low Freezer line of B Medical Systems is offered by the U201, offering 206 liters (7.27 cu ft) of storage capacity and supporting set/operating temperatures from -86°C to -20°C in ambient temperatures of between +10°C and +43°C.
U201 Ultra Low Freezer – Reliability and Specimen Protection
B Medical Systems' U201 Ultra-Low Freezer is designed for reliability and sustainability, offering adjustable temperature set points ranging from -86°C to -20°C and energy efficiency.
The innovative system ensures uniform and stable temperature distribution throughout the cabinet and fast temperature recovery after door opening.
Specimen security is further ensured with extended holdover time in case of power failure and optional CO2 backup, along with an audio-visual alarm system and alerts via SMS or email. User convenience is further enhanced by 7" touchscreen operation and clear temperature display. The touchscreen also supports the password protected/NFC card-based door locking mechanism.
For efficiency and sustainability, the product uses natural refrigerants with high cooling efficiency in conformity with US SNAP and EU F-Gas regulations. Energy efficiency is enhanced by high thermal insulation along with insulated inner doors, sealed gaskets and an enhanced frame for minimized cold air loss and frost build-up.
Moreover, antibacterial coating and modular interiors support easy hygiene control as well as easy access to all levels, while high-quality stainless steel and other materials ensure durability and extended life span of the product.
In conclusion, the U201, with its compact form and high energy efficiency, is designed to be deployed at pharmacies, clinics and other ultimate last-mile points of care, that require lower capacity Ultra-Low Freezers to support day-to-day needs in delivering vaccination campaigns, pharmaceutical operations and more.
Data Monitoring and Remote Monitoring
The Ultra-Low Freezer U201 offers convenient data management through a 7'' touch screen display and enables data export through the USB ports and SD cards. B Medical Systems also offers reliable remote monitoring via °B Connected, a cloud-based monitoring solution. Furthermore, this solution offers graphic display of the temperature curves, integrated event and activity history of the unit and is compliant to the technical controls of 21 CFR Part 11 regulation (subpart A and B).
The model also offers remote monitoring via a Remote Temperature Monitoring Device (RTMD) which can track many functionalities including the inner temperature and ambient temperature, lid openings and the product's GPS position. This data is always accessible  to the owner of the U201 model the RTMD is attached to who will receive automatic Email and SMS alarm notifications in case of any unwanted temperature deviations, creating a higher level of security for any vaccine, medicine or sample stored inside the unit.
U201 Specifications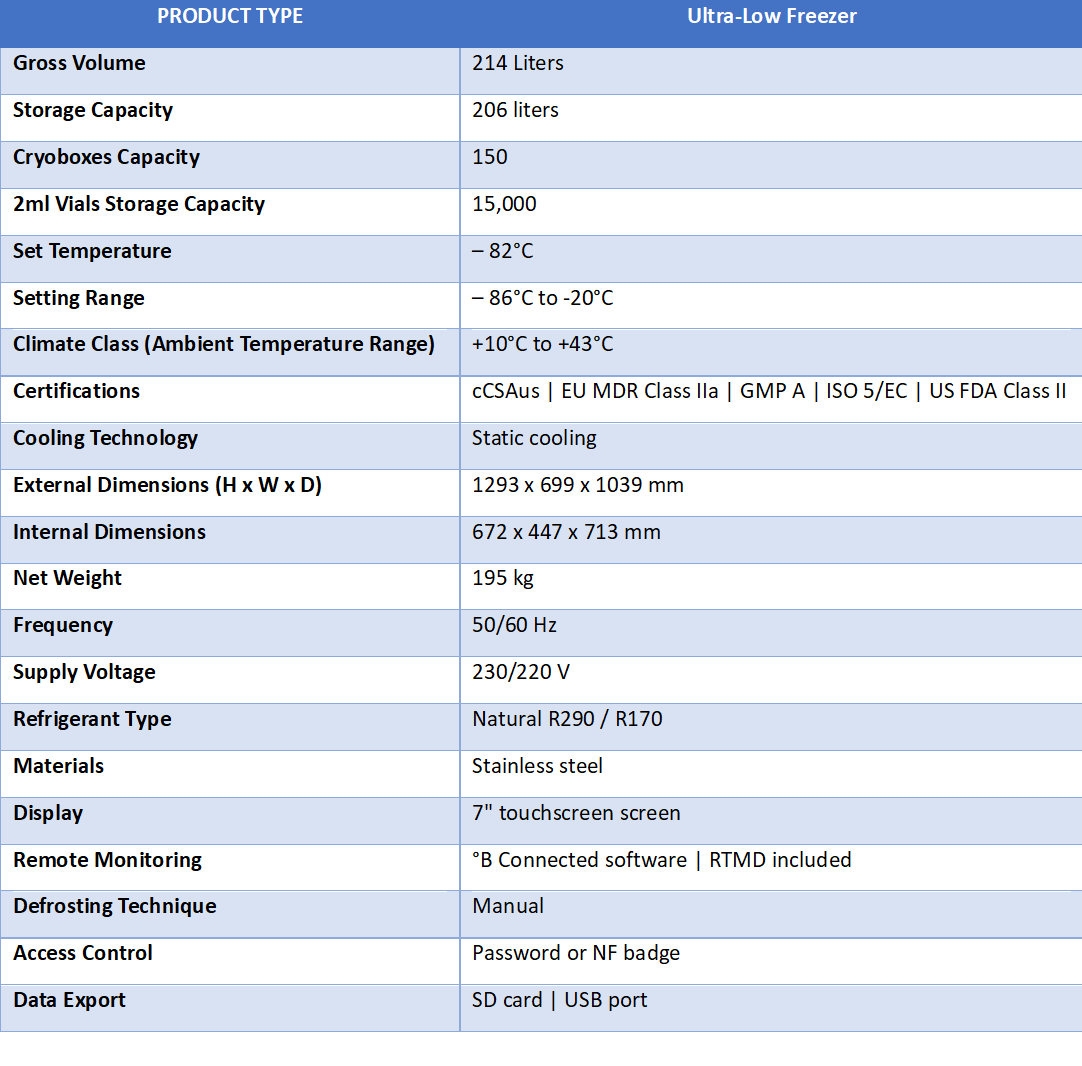 Resources
Click on B Medical Systems' Ultra-Low Freezer U 201 for detailed product information.
Click on B Medical Systems' Ultra-Low Freezers for information on product range.
Click on Reliability of Ultra-Low Freezers for safe storage of valuable samples to download White Paper.
Click on Sustainable Practices in using Ultra-Low Freezers to Green Up Your Lab to download White Paper.
Click on Ultra-Low Temperature Freezers of Superior Energy Efficiency to download White Paper.
Click on Ultra-Low Freezers to access Infographic.
Click on B Medical Systems' Ultra Low Freezers for Blood Storage  for blood storage solutions.
Click on B Medical Systems' Ultra Low Medical Freezers  for storage solutions for vaccines, human cells, tissues and other laboratory samples.