---
Academic study confirms TAmiRNA osteomiR™ as promising biomarker for predicting fracture risk
---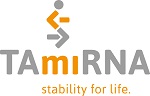 Press Release | TAmiRNA GmbH
DECEMBER 13, 2019
Vienna, Austria: A newly published academic study confirms promising applications for osteomiR™ microRNA-based technology from biotech innovator TAmiRNA as part of a superior fracture risk framework for older patient populations.
The article 'Evaluation of a Panel of MicroRNAs that Predicts Fragility Fracture Risk: A Pilot Study' is published in the November 2019 issue of the journal Calcified Tissue International.
Supplementing bone densitometry and FRAX
The study team, led by Dr. Aurélie Ladang of the CHU Hospital University of Liege in Belgium, assessed a panel of microRNAs (miRNAs) known to regulate post-transcriptional gene expression as potential biomarkers for assessment of fragility fracture risk to replace methods based on bone densitometry and the fracture risk assessment tool FRAX®, which have both shown some limitations.
Ladang et al. obtained promising results for the application of osteomiRs™ for fragility fracture reduction amongst elderly patients, establishing strong associations between osteomiRs™ and vertebral fractures.
Added value biomarker
"The osteomiR™ score seems to be a promising miRNA panel for fragility fracture risk prediction and might have added value compared to FRAX," the team concludes.
A previous study, Zarecki et al.(Bone 2019 Oct 24:115105) find strong associations between osteomiRs™ and vertebral fractures and Kocijan et al.(Bone 2019 Nov 1:115104) have elucidated the effect of anti-osteoporotic treatments on microRNA levels in bone and serum.
Biological osteoporotic mechanisms will be further investigated within the Marie-Curie ITN project FIDELIO. TAmiRNA is part of this EU-funded Innovative Training Network and will host a PhD candidate who will help to explore the role of microRNAs in diabetic bone fragility.
About TAmiRNA
TAmiRNA specializes in technologies for profiling levels of blood-circulating microRNAs and developing multi-parametric classification algorithms ("signatures"). TAmiRNA uses these technologies to develop minimal-invasive diagnostic tests for drug development, early diagnosis and prognosis of disease, and as companion diagnostic tests to support treatment decisions.
Media Contact
Dr. Elisabeth Semmelrock, Scientific Communications, TAmiRNA GmbH
Tel: +43 1 391 33 22 90
Email: elisabeth.semmelrock@tamirna.com
Resources
Click on TAmiRNA osteomiR confirmed as promising fracture risk biomarker for other information.
Click on TAmiRNA to contact the company directly.
Click on Evaluation of a Panel of MicroRNAs that Predicts Fragility Fracture Risk to access original study article.
---
Supplier Information
Supplier: TAmiRNA GmbH
Address: Leberstrasse 20, 1110 Vienna, Austria
Tel: +43 (0)660 420 58 56
Website: www.tamirna.com
---