Contact Supplier
Contact Supplier
To get in touch with Bonfiglioli Engineering S.r.l., simply fill out the form below.
TASITEST showcasing enhanced leak-testing solutions at PACKEXPO 2017
Ferrara, Italy: – Pharmaceutical packaging testing and inspections specialist TASITEST Packaging Test & Inspection will showcase its latest technologies and solutions at the major upcoming PackExpo show in Las Vegas. These will include a range of machines developed to detect leaks and defects in pharmaceutical packaging as well as empty plastic bottles.
TASITEST will exhibit at Booth 209 in the North Hall of the Las Vegas Convention Center.
Live demonstrations
The TASITEST team in Las Vegas will showcase a number of significant machines, with live demonstrations of their capabilities. These include:
Alps Flex Pitch: a fast tool-less, multi-moving head leak tester with the flexibility to test a wide range of empty plastic containers
Bonfig LFS-11: a benchtop single-head leak testing machine for inspecting vials pre-filled syringes, pouches, PFS nests, Monobloc, IV Bags, flow-wrapped device, form fill seal and bow fill seal containers, carpules, bottles, ampoules and liquid form sachets
Bonfig Lasercube: a benchtop-sized Headspace Gas Analysis machine that measures headspace level of gasses like oxygen and carbon dioxide and monitors moisture levels in ampoules or vials up to 250ml, as well as cartridges and pre-filled syringes
Sepha VisionScan Max: a tool-less non-destructive leak detection for full batch inspection of pharmaceutical blister packs
Special attractions
"Once again, PACKEXPO gives us a great platform to connect with key decision makers involved in production, maintenance, production and laboratory processes," said TASITEST Marketing dept.
"We will be able to demonstrate an enhanced range of solutions meeting their needs for high leak detection sensitivity, non-invasive and non-destructive test methods, coupled with fast, reliable and repeatable test results," said Marketing dept.
About TASITEST
TASITEST represents a new force in the packaging leak detection market, combining three top industry players, ALPS, Bonfiglioli and Sepha to provide an unrivalled range of visual inspection, leak testing and headspace gas analysis solutions across diverse global markets.
With a focus on Packaging test & Inspection across several vertical markets, TASITEST supplies integrity-testing solutions for all primary packaging requirements.
TASITEST is a specialist in the three complementary technologies that together provide 100% assurance in packaging sealing and integrity: Visual Inspection, Leak Testing and Headspace Gas Analysis (HGA). It also deploys a range of other technologies; these technologies are incorporated in a range of machines designed for pharmaceutical applications. These include the LF Series bench-top and Off-line machine designed for Non-Destructive Integrity Testing of: Vials, Pre Filled Syringes, Pouches, PFS Nest, Monobloc, IV Bags, Flowrapped Device, FFS, Carpule, Bottles, BFS, Ampoules, Liquid Forms, MDPI, MDI and PK Series of inline and offline machines to perform VDM or PDM based closure integrity testing in vacuum or pressure.
TASITEST products and solutions can be applied across a very wide range of industry sectors, including Pharmaceutical and biotech packaging, Medical Devices, Food & Beverage and Appliances for testing and inspection of vials, bottles, ampoules, Pre-Filled Syringe (PFS) packs, cartridges, Blow Fill Seal (BFS) and Form Fill Seal (FFS) containers, IV Bags and flow wrapped devices, pouches, PFS nest, carpoule, MDPI, MDI.
About PACK EXPO 2017
The annual PACK EXPO and the co-located Pharma EXPO together form of the world's most important trade fairs for the advanced packing and processing industries, attracting more buyers from the USA than any other sector event.
The 2017 PACK EXPO and associated Pharma EXPO show form a unified three-day event, opening September 25 at the Las Vegas Convention Center, in Las Vegas, Nevada, USA.
Last fall's show, in Chicago, Illinois, attracted more than 50,000 international visitors from 130 different countries worldwide, along with more than 1,800 exhibiting companies.
The EXPO events are jointly presented by PMMI, The Association for Packaging and Processing Technologies, along with the International Society for Pharmaceutical Engineering (ISPE). More information at: https://www.packexpolasvegas.com
Media Contact
Marketing department
Tel: +39 0532 715631
Email: marketing@tasitest.com
Resources
Click on TASITEST at PACKEXPO 2017 for other information.
Click on TASITEST to contact the company directly.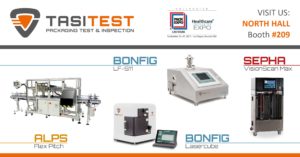 ---
Supplier Information
Supplier: TASITEST Packaging Test & Inspection
Address: via Rondona, 33, 44049 Vigarano Pieve (FE)
Tel: +39 0532 715 631
Fax: +39 0532 715 625
Website: www.tasitest.com
---
View Articles by Bonfiglioli Engineering S.r.l.