---
TAmiRNA to exhibit microRNA capabilities at BIO-Europe
---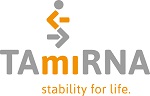 Press Release | TAmiRNA GmbH
OCTOBER 31, 2016
Vienna, Austria: – Innovative biotech company TAmiRNA will exhibit its revolutionary microRNA-based analytical tools focuses on age-related diseases at the high prestige BIO-Europe biotechnology partnering conference in November.
TAmiRNA will be part of the Austrian Collective Stand of LISAvienna, at Booth 84, in the upper area of the exhibition in the KoelnMesse Congress Center in Cologne.
This will be TAmiRNA's fifth successive attendance at a BIO-Europe event.
"The partnering platforms here have helped us to build important collaborations in the past," commented TAmiRNA CEO and co-founder, Dr. Matthias Hackl, who will lead the company team at BIO-Europe.
microRNA diagnostic tools
"We are coming to Cologne looking for co-development partners from the Medtech and pharmaceutical industries to establish use cases for our diagnostic assays," said Dr. Hackl.
"We will present new clinical data on our diagnostic products such as the new osteomiR™ kit along with our CRO services for biomarker and diagnostics development," he said.
"This will the first time we have been able to showcase the osteomiR™ kit and workflow application as a research use only (RUO) microRNA based kit that enables rapid detection of microRNAs that could serve as novel biomarkers for early diagnosis and prognosis of fracture risk in post-menopausal osteoporosis," Dr. Hackl added.
Cardiovascular development
"We will also be able to provide insights on a very interesting product targeted on cardiovascular disease that is already in the TAmiRNA development pipeline," said Dr. Hackl , who will be joined on the partnering conference by the company's scientific advisor and fellow co-founder Dr. Johannes Grillari and Chief Financial Officer Otto Kanzler.
Dr. Grillari said: "We will be reaching out to an audience of biotech and pharma companies with active drug development programs in musculoskeletal and cardiovascular disease and Medtech companies active in molecular diagnostics looking for novel biomarker candidates."
"We will be able to show tools for predicting fracture risk in osteoporosis and that offer the possibility of identifying high-risk subsets that qualify for preventive therapeutic treatment, with a set of biomarker targets that give insights on the onset and progression of osteoporosis," said Dr. Grillari.
About TAmiRNA
Privately owned TAmiRNA GmbH is a Vienna-based biotech company specialized in the identification and validation of non-coding RNAs as biomarkers for age-related diseases. TAmiRNA 's mission is to provide clinically useful biomarkers to improve and prolong patient stability, health and quality of life with increasing age.
TAmiRNA develops technologies for profiling levels of blood-circulating microRNAs and developing multi-parametric classification algorithms ("signatures"), using these to provide minimal-invasive diagnostic tests for early diagnosis and prognosis of disease, or as companion diagnostic tests to support treatment decisions.
TAmiRNA's pipeline includes developments in osteoporosis, cardiovascular disease, type-2 diabetes, and cancer-focused 'microRNA kit' solutions that enable users to quantify the levels of specific microRNA combinations and platelet function in serum, plasma, urine or other biofluids. The company initially developed kits for bone disease and cardiovascular disease; osteomiR™ and thrombomiR™.
TAmiRNA also offers contract research services for companies who targeted biomarker development. Customers include biopharma companies with drug development programs in human and veterinary medicine, Medtech companies and clinical research groups.
TAmiRNA was founded in November 2013 with funding boosted by investigator awards from the American Society for Bone and Mineral Research (ASBMR) and the European Calcified Tissue Society (ECTS).
TAmiRNA's founders, Matthias Hackl, Otto Kanzler, Regina & Johannes Grillari share a strong interest in musculoskeletal disorders, especially osteoporosis, and cardio-vascular disease along with a guiding vision "to bring more life into the age of human".
In May 2015, TAmiRNA was runner-up in the Best of Biotech International Awards. Later that year, the company received Phase 1 funding for its SME instrument and was also named HighTec winner in the GEWINN Young Entrepreneur Awards.
About BIO-Europe 2016
The BIO-Europe® Conference is the flagship conference for EBD Group, providing life science companies with high caliber knowledge sharing and partnering opportunities.
BIO-Europe has formed the launchpad for many highly successful business partnerships, drawing delegates from all parts of the biotechnology value chain to identify, engage and enter into strategic relationships.
BIO-Europe 2016 is a three-day event opening November 7 at Cologne's Koeln Messe – Congress Center North, again drawing more than 3,000 industry attendees from some 60 countries, representing more than 1,800 companies.
Partnering at BIO-Europe 2016 is powered by EBD Group's partneringONE®, the industry's most advanced networking system, which enables participants to efficiently mine a large pool of potential partners, and identify and pre-arrange private one-to-one meetings with multiple company targets.
More information at: https://ebdgroup.knect365.com/bioeurope/
Media Contacts
Dr. Elisabeth Schraml, Science Communications, TAmiRNA, GmbH
Tel: +43 (0)660 420 58 56
Email: office@tamirna.com
Resources
Click on TAmiRNA to exhibit microRNA capabilities at BIO-Europe for other information.
Click on TAmiRNA to contact the company directly.
---
Supplier Information
Supplier: TAmiRNA GmbH
Address: Muthgasse 18, 1190 Vienna, Austria
Tel: +43 (0)660 420 58 56
Website: www.tamirna.com/
---