---
TAmiRNA presents new microRNA biomarker applications at CNAPS
---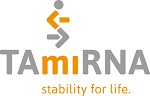 Press Release | TAmiRNA GmbH
SEPTEMBER 18, 2017
Vienna, Austria: – Innovative biotech company TAmiRNA will present its latest insights on new applications of circulating microRNAs as novel biomarkers at the international CNAPS symposium in Southern France in September.
TAmiRNA CEO Dr. Matthias Hackl will show how circulating microRNAs can serve as biomarkers for patient stratification in osteoporosis and cardiovascular disease during the symposium session on 'Healthy, Transplant and Other Physio-pathological Conditions' on the third morning of the symposium (11.00-12.30am, September 22, 2017).
"I hope my presentation will provide some new inspiration to scientists and researchers from biotech and pharma companies, academic and clinical research groups participating in clinical studies in musculoskeletal and cardiovascular disease," said Matthias Hackl.
Predictive and diagnostic tools
"We are able to show uses of microRNAs as novel biomarker candidates for predicting fracture risk in osteoporosis, for example, providing possibilities to identify high-risk subsets that qualify for preventive therapeutic treatment. These new biomarker targets also provide new insights into the basic disease mechanisms of osteoporosis," Dr. Hackl explained.
"I will also be talking about our uses of circulating microRNAs to enable personalized monitoring of anti-platelet therapy, with assessment of bleeding-risk due to impaired platelet activation. This is a highly useful potential new tool in risk-assessing adverse cardiovascular events and early diagnosis of metabolic diseases," he added.
About TAmiRNA
Privately owned and headquartered in Vienna, TAmiRNA GmbH is a biotech company specialized in the identification and validation of non-coding RNAs as biomarkers for age-related diseases. The mission of TAmiRNA is to provide clinically useful biomarkers to improve and prolong patient stability, health and quality of life with increasing age.
TAmiRNA specializes in technologies for profiling levels of blood-circulating microRNAs and developing multi-parametric classification algorithms ("signatures"). TAmiRNA uses these technologies to develop minimal-invasive diagnostic tests for early diagnosis and prognosis of disease, or as companion diagnostic tests to support treatment decisions.
TAmiRNA's pipeline includes developments in osteoporosis, cardiovascular disease, type-2 diabetes, and cancer, which aim to provide 'microRNA kit' solutions that enable users to quantify the levels of specific microRNA combinations and platelet function in serum, plasma, urine or other biofluids. The company initially developed kits for bone disease (osteomiR) and cardiovascular disease (thrombomiR).
TAmiRNA also offers contract research services for companies in need of targeted biomarker development. Customers include biopharma companies with drug development programs in human and veterinary medicine, medtech companies and clinical research groups.
More information available at: www.tamirna.com
About CNAPS 2017
The biennial international symposium on circulating nucleic acids in plasma and serum (CNAPS) was founded in 1997 as the first meeting entirely dedicated to the circulating DNA and RNA field.
Since then it has been held every second year in America, Asia or Europe.
Th 10th symposium, CNAPS 2017 will be a tree-day event, opening September 20, 2017, at the Corum in Montpellier.
CNAPS meetings are unique in focusing on both basic and applied research and making explicit links between the two fields.
The 2017 meeting will the themed around recent advances in circulating RNA and DNA.
The symposium is organized by the National Institute of Health and Medical Research (INSERM) and Institute of Oncology Research of Montpellier in partnership with Eventime Montpellier. More information is available at:
More information available at: www.cnaps2017.com
Media Contact
Dr. Elisabeth Schraml, Scientific Communications, TAmiRNA GmbH
Tel: +43 (0)660 420 58 56
Email: office@tamirna.com
Resources
Click on TAmiRNA presents new microRNA biomarker applications at CNAPS for other information.
Click on TAmiRNA to contact the company directly.
---
Supplier Information
Supplier: TAmiRNA GmbH
Address: Muthgasse 18, 1190 Vienna, Austria
Tel: +43 (0)660 420 58 56
Website: www.tamirna.com
---