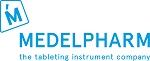 Address: 12, rue des Petites Combes, Z.I. Nord, F-01700 Beynost, France
Tel: +33 478 976 213
Fax: +33 478 881 865
Medelpharm, headquartered in Lyon, South-East France, is a high-precision engineering company manufacturing R&D tablet presses and providing innovative solutions for powder analysis and formulation.
Medelpharm focuses on continuous development of innovative research presses (hardware and software), simulation of industrial production cycles, powder characterization and formulation services, compression- and material science in the pharmaceutical, food and cosmetics market.
Research Press for the characterization of raw materials and formulations for tablet development
The new STYL'One Evolution tableting instrument is a high-speed all-in-one multilayer tool from early formulation to scale-up at production speed.
The machine characterizes essential powder properties and active pharmaceutical ingredients (API) and tests their suitability by simulating industrial production cycles, typically up to 400 000 tab/hour (dwell time <2ms) with only a few grams of powder needed.
No compromise on user protection from early research to multilayer production scale-up
Following a global trend, Medelpharm offers different levels of operator protection from wash-in-place to full containment OEL 5, for the most potent drugs substances.
Small scale development in dry granulation
Dry granulation with roll compaction hybrid modelling is a topic intensively pursued by Medelpharm in intensive cooperation with University of Düsseldorf.
QbD is at the heart of the development of tablet formulation
QbD, a concept to produce a drug in a repeatable manner and cost-effective way, is in the heart of the design of the STYL'One R&D press.
High-power, adaptable software for powder compaction analysis
The ANALIS data acquisition and control package automatically explores and analyses the design of formula with efficiency in investigating critical attributes.
Collected data is analysed and presented in a user-friendly tabular or graphical format.
Compaction of tablets and analysis of powder properties but no trade-off in ease of use
The STYL'One Evolution has a great ease of use; a compact design at door size, and offers a clean and easy exchange of B, D (EU │TSM) oversized, core rods.
Valuable accessories like the Micro-dosing unit; tab-in-tab device and GMP module with weight regulation and force feeding as well as a heated die are just a few of the available accessories with production mind.
STYLCAM/STYL'One has been installed more than 100 times world-wide.
Laboratory services –resource for optimal tableting
In spring 2017 Medelpharm has decided to leave its laboratory in the heart of the University of Lyon and built a laboratory in their own premises.
The new laboratory is under controlled atmosphere to perform powder characterization and analysis. It houses amongst the latest innovative measuring equipment, the STYL'One Tableting Instrument, Smart test 50 and Mini coater/drier for coating of minimal quantities of tablets as well as an SLS multifunctional mill and sifter.
A team of junior and senior scientists are available from the starting point of powder characterization, for screening of numerous formulations and testing powder flowability, powder densities and tabletability.
Training - to maximise your capabilities in R&D and production
Investment in training today means time-saving tomorrow.
Medelpharm is a training centre recognized by the French authorities.
University cooperation –research on a high level
The students – also clients of tomorrow – should get the opportunity to use professional tableting instruments for their training and getting experience on future working methods and machines.
Medelpharm has chosen to put universities at the heart of its strategy with partnerships all over the world.
Partnership
The distribution of the STYL'One Tableting instruments is part of a global partnership with the Romaco (Kilian) Group.
Maintenance, FAT, SAT and more
Medelpharm puts at your disposal services like URS definition, installation, FAT, SAT and training, support, maintenance and calibration, consumables and wear and tear parts.
Powder processing solutions from A-Z
Medelpharm distributes renowned and innovative technologies in powder processing from Lab scale to production with brands like:
LB Bohle
The leading supplier of special process machines for the pharmaceutical industry Manufacturer of equipment for weighing, granulation, sieving, blending and coating.
Caleva
Market leader in manufacturing and developing equipment for the production of pellets (beads or spheroids) by extrusion and spheronization™ .
Fitzpatrick
Manufacturer of pharmaceutical hammer mills
Quadro │ Conical mill for consistent size reduction and uniform tableting
Quadro is the world's leading technology for achieving uniform size reduction, sieving, de-agglomaration and dispersion.
Procept
The specialist in lab-scale R&D equipment, offering innovative solutions for drying, agglomeration, tablet coating and mixing applications. Focusing on small-scale equipment.
Contact
To learn more about MEDELPHARM's services and capabilities and how they can assist your business, please contact MEDELPHARM directly.
Follow us on:
Groups:
Laboratory Equipment & Services
Manufacturing & Production
Process Engineering & Equipment
Training & Consultancy