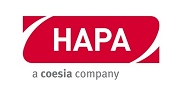 Address: Chriesbaumstrasse 4, 8604 Volketswil, Switzerland
Tel: +41 43 399 32 00
Fax: +41 43 399 32 01

Hapa AG is a global leader in Late Stage Customization and On Demand Packaging printing solutions for the pharmaceutical packaging industry, with growing presence in the cosmetics, food and medtech industries. Its mission is to empower customers to improve LEAN production with in-process printing solutions.
Printing Solutions
Hapa stands out from its competitors for the diversity of printing system solutions it offers. UV flexography and UV drop-on-demand Piezo inkjet technologies are integrated into printing solutions that can meet the packaging industry's every need.
Hapa systems offer high quality, cost-effective print, whether printing batch-specific information in a single colour or a full-package presentation in multi-colours, and from single imprints to tens of thousands.
Hapa Ink – inks for every need
Hapa Ink, operating independently of Hapa, and working under the banner, Swiss Ink Performance, specializes in developing, producing and delivering top-quality, tailor-made UV DOD inks and supplies in any volume. Products are packaged to customer specifications. An experienced supplier to several OEMs, Hapa Ink offers the know-how and world-class products suitable to the full gamut of print technologies, processes, materials and applications. Hapa Ink products today are printing on plastic, aluminum, glass, and labeling materials of all types.
Customer Benefits
In-line printing operates wholly within LEAN principles. A Hapa packaging printing system enables a range of specific benefits designed to reduce waste and accelerate process and production efficiency. On Demand printing capability tightens packaging controls and delivers the flexibility to respond faster to market demand - open new opportunities for expansion.
Specific benefits include:
Reduced SKU's: supply unlimited markets from a single stock keeping unit. Using blank or generic pre-printed material saves on warehouse space, logistic processes and eliminates obsolete products.
Reduced Waste: eliminate expenses from changeovers and reduce downtimes. Economize on processes and reduce risks of errors and recalls.
Accurate Forecasting: simplify and improve forecasting strategy with more accurate results. Hapa's UV DOD technologies facilitate Late Stage Customization of products, and switching production from make-to-stock to make-to-order.
Reduced Time to Market: mobilize rapidly for product launches or specific campaigns; produce more personalized products and target new or niche markets.
Private Labelling: alter graphical and text elements or trade dress more immediately and cater for regional markets or white-label clients. Manufacturers can produce unfinished products in bulk to be shipped on demand and finished locally with an in-house Hapa printer.
Serialisation / Track & Trace: print each pack uniquely, no matter its form or substrate. Hapa's fully-digital printing technology is ideally suited to producing micro batches and enabling serialisation and Track & Trace.
Substitute Embossing: expiration dates and lot number can be integrated seamlessly into the overall package design, improving readability for automatic verification and end-customer use. An added benefit: print is non-invasive.
Eliminate Reconciliation: use generically pre-printed or blank materials across different products, strengths, dosage forms and quantities of contents to eliminate set-up and tear-down times, and all processes associated with reconciliation.
Easy to use, robust and reliable: train existing line personal on Hapa systems. Colour changes are rapidly done. The technologies and systems are proven robust and reliable.
About Hapa
Hapa's printing systems are developed and produced at its headquarters near Zurich, Switzerland. Hapa also has presence in the USA, UK, Germany, India, Mexico, Brazil and Japan, employing some 150 people in total. There are more than 2,000 Hapa machines in service in more than 50 countries worldwide.
The company is a proud member of Coesia Group. Headquartered in Bologna, Italy, Coesia comprises 14 globally operating companies, active industrial leaders in automated machinery, industrial process solutions and precision engineering.
Contact
To learn more about Hapa products and services and how they can assist your business, please contact the supplier directly.
Follow us on:
Groups:
Manufacturing & Production
Packaging & Labelling
Process Engineering & Equipment
Training & Consultancy