---
STYL'One Evolution – R&D, Scale up and Production Support Press
---

Products & Services | MEDELPHARM S.A.S
The STYL'One Evolution is an R&D, scale up and production support press. This may be the only tableting machine that many companies will ever need, thanks to its wide range of modes and capabilities. These range from early formulation characterization of API to scaled-up multi-layered formulations at production speed.
This versatile machine combines the flexibility and multilayer capacity of the STYL'One Classic with the simulation function at production speed of the renowned STYLCAM.
Fully instrumented and mated with ANALIS software, the STYL'One Evolution becomes an R&D "tableting robot" capable of exploring the design space autonomously and analysing formulae with utmost efficiency.
Benefits
Single layer tablets production upgradable to multilayer and tab-in-tab
Target thickness or target density mode
Easy scale-up for classic high-speed rotary presses as well as special presses
Compact Design
Movable
Clean and easy tooling change
Fully instrumented with user-friendly Galenic software package
Extensive data analysis and automatic studies using minimal amounts of powder
Adaptable to R&D exploration and cGMP operation
Functions
Easy to operate, this tablet press benefits from very fast volume reduction and a displacement of both punches at high speed that allows:
Production of tablets equivalent to those being made in production at speeds of up to 300.000 tab/h
Predefined profiles optimised for Pharma/R&D applications, including saw tooth, long dwell time, and pre-main compression
Simulation and analysis of production on all mainstream industrial presses (e.g., KILIAN Synthesis 500, FETTE 2090, KORSCH X400, etc.)
Simulation and analysis of non-conventional production presses (e.g., IMA Comprima)
The STYL'One Evolution removes all uncertainties on the quality of industrial transposition, manufacturing clinical batches as true prototypes of final production runs. Its production package includes weight regulation.
The comprehensive STYL'One package is rounded out with stearate spray, tab in tab and multilayer capabilities.
Extension and Options
The STYL'One Evolution comes packaged with ANALIS Advanced software as standard. This ensures rapid performance of in-depth studies by adding two types of operations:
Full automation of research and reporting
Ability to modify compression profiles to create an optimised individual profile
The advanced module allows 'blue sky' thinking in exploring almost unlimited new compression profiles (e.g., slow compression ramp up and fast decompression; multiple pre-compression, etc.). It also allows feeding time to be tailored for slow flowing powders or perform five compressions in a row to measure in die elastic recovery; try a long, slow pre-compression coupled with very fast main compression, etc. Again, there is no limit to creativity in optimizing production profiles.
STYL'One can also be teamed with extension ANALIS modules to provide even more advanced operating modes:
ANALIS Multilayer module converts STYL'One into a multilayer and tab in tab machine, producing multilayer tablets, incorporating up to five layers with three active pharmaceutical ingredients (APIs) manually or automatically. This software module also opens up core coating possibilities.
ANALIS GMP Production module is equivalent to having an accredited inspector on the team for laboratories needing to create clinical batches in GMP conditions. Built on SQL database, this software rigorously controls and tracks production to full CFR Part 11 compliance, leaving no room for untracked parameter changes and allowing GAMP 5 certification.
Other Options
A wide range of optional options are available to tailor STLY'One Evolution to particular customer requirements. These include:
Standard EU & IP format and non-standard tools up to 40 mm diameter
Good/Bad tablet sorter; paddle-, gravity or hand feed (1 tablet)
Hand fill mode available for multilayer or tab in tab!
A choice of different force feed shoes or tooling size (Euro, TSM etc.)
"Viewer license" which allows data to be viewed, edited and analysed remotely
Connection interface to measurement chain in order to input your data directly
A laboratory equipped with precision equipment (hardness tester, 0, 01mg scale, friability tester, etc.)
Extensive Services like Compression Analysis, consulting on granulation (dry or wet) clivage, gripping etc.) and training on production and compression physics, coating and more
| Specifications | |
| --- | --- |
| Number of press stations | 1 |
| Tool type | EU/TSM B or D |
| Die | BBs,BB, B, D, oversized |
| Maximum tablet diameter (mm) | 40 |
| Maximum output (tablets/hour) | 1,200 |
| Feed shoes (up to 3) | Hand feed, gravity, paddle force feeder, core feeding |
| Maximum die filling (mm) | 32 |
| Compression mode | Force or displacement driven |
| Adjustable compression zone | Adjustable |
| Maximum pre-compression force (kn) | 30 to 50 |
| Maximum compression force (kn) | 30 to 50 |
| Punch movement | Selectable; 1 punch only or upper + lower |
| Punch speed mm/sec – powder bed reduction | up to 2 x 350 |
| Dwell time (ms) | <2 ms extendable to >2 sec |
| Power (kW) | 10 |
| Standard Voltage | 400/480 V (± 10%) – 50/60 Hz |
| Weight (kg) | 1,080 |
| Dimension | 2022 x 720 x 720 mm |
Resources
Click on STYL'One Evolution- R&D, Scale up and Production Support Press for further information.
Click on MEDELPHARM to contact the company directly.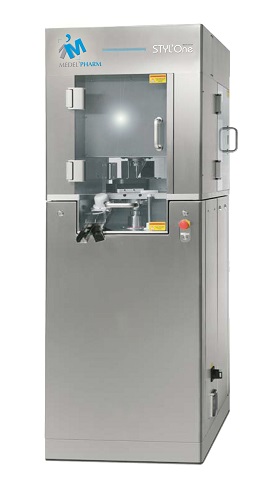 ---
Supplier Information
Supplier: MEDELPHARM S.A.S
Address: 12, rue des Petites Combes, Z.I. Nord, F-01700 Beynost, France
Tel: +33 478 976 213
Fax: +33 478 881 865
Website: www.medelpharm.com
---