---
STYL'One Classic – R&D, Powder Characterization and Scale-up Tableting Machine
---

Products & Services | MEDELPHARM S.A.S
The STYL'One Classic is an R&D, powder characterization and scale-up tableting machine that forms the most complete, versatile and affordable research press in the world. This machine can be thought of as a 'Research Robot' that is perfect for the characterization of raw material or formulations, allowing autonomous exploration of the research space as well as production of small clinical batches.
Teamed with advanced ANALIS software with the capacity of programming individual compression profiles, the STYL'One Classic can be extended to autonomous research, multilayer and cGMP proving roles.
Benefits
World's most complete, versatile and affordable development press
Tab-in-Tab capability up to five layers
Automated research modes, saving time and powder
Versatile and easy to use
Unlimited speed & pre-compression modes leaving no production unknowns
Unique compression mode for ultimate flexibility
Fully instrumented for software and data acquisition
Small footprint for a multipurpose all in one R&D tool
High containment levels for perfect hygiene in clinical batches
Ease of use and ease of cleaning
Repeatability of mechanical systems compared with hydraulic or pneumatic systems
High-speed precision through Planetary Roller Screw system
Functions
The single sided STYL'One Classic is fully instrumented and controls:
In-depth analysis of powder characteristics (saw tooth profile, extended dwell time, classic rotary compression profile, pre compression influence, strain rate)
Hand-feed, gravity-fed,forced-fed or paddle-feed shoe
Force/displacement/ejection on both punches. Optional instrumented die, incremental transducers
Extension and options
The STYL'One Classic comes packaged with ANALIS Advanced software as standard. This ensures rapid performance of in-depth studies by adding two new profiles to operation:
Full automation of research and reporting
Ability to modify compression profiles to create an optimised individual profile
A laboratory equipped with precision equipment (hardness tester, 0, 01 mg scale, friability tester, etc.)
Extensive service like Compression Analysis, Expertise and consulting, Training on production, compression physics, coatings and more
STYL'One can also be teamed with extension ANALIS modules to provide even more advanced operating modes:
ANALIS Multilayer module converts STYL'One into a multilayer and tab in tab machine, producing multilayer tablets, incorporating up to five layers with three active pharmaceutical ingredients (APIs) manually or automatically
ANALIS GMP Production module is equivalent to having an accredited inspector on the team for laboratories needing to create clinical batches in GMP conditions. Built on SQL database, this software rigorously controls and tracks production to full CFR Part 11 compliance
Other Options
A wide range of optional fitments are available to tailor STLY'One Classic to particular customer requirements. These include:
Standard EU &IP format and non-standard tools
Good/Bad tablet sorter using paddle, gravity or hand feed (1 tablet)
Hand fill mode available for multilayer or tab in tab
Standard EU & IPT and non-standard tools (max tablet 40mm diameter, 32mm fill)>
| Specifications | |
| --- | --- |
| Number of press stations | 1 |
| Die | BB, B, D, oversized |
| Maximum tablet diameter (mm) | 40 |
| Maximum layers | 5 |
| Maximum die filling (mm) | 32 |
| Maximun output (tablets/hour) | 900 |
| Feed shoes (up to 3) | Habd feed, gravity, paddle force feeder, core feeding |
| Compression mode | Force or displacement driven |
| Adjustable compression zone | Adjustable 2 to 8 |
| Maximum pre-compression force (KN) | 30 or 50 |
| Maximum compression force (kn) | 30 or 50 |
| Dwell time (ms) | <4 ms extendable to 2 secs |
| Instrumentation Standard | ANLALIS software, upper and lower force and displacement standard |
| Power (kW) | 7 |
| Standard Voltage | Dual 400/480V; 50/60Hz |
| Weight (kg) | 950 kg / 2060 lbs |
| Dimension | 1915 x 720 x 720 mm |
Resources
Click on STYL'One Classic – R&D, Powder Characterization and Scale-up Tableting Machine for further information.
Click on MEDELPHARM to contact the company directly.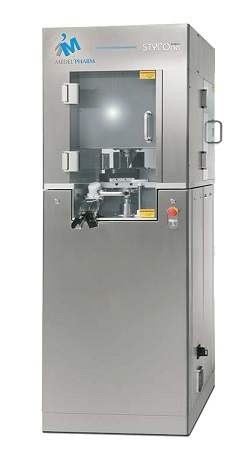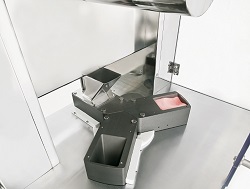 ---
Supplier Information
Supplier: MEDELPHARM S.A.S
Address: 12, rue des Petites Combes, Z.I. Nord, F-01700 Beynost, France
Tel: +33 478 976 213
Fax: +33 478 881 865
Website: www.medelpharm.com
---