---
Roquette plant-based excipients
---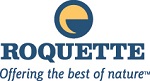 Products & Services | Roquette Pharma
JULY 29, 2015
Roquette Pharma has developed plant-based excipients, as well as APIs for parenteral preparations. This extended range of products has exceptional potential for meeting pharmaceutical and nutraceutical markets needs.
The Roquette range includes:
Native starches: wheat, corn, potato, pea
Modified starches: pregelatinized or partially pregelatinized, sodium starch glycolate
Sugars: dextrose, maltodextrin
Polyols: maltitol, mannitol, sorbitol and xylitol
Cyclodextrins: betacyclodextrin, methyl betacyclodextrin and hydroxypropyl betacyclodextrin
Dietary fibers
Pyrogen-free dextrose and polyols (mannitol, sorbitol)
Roquette has also developed branded co-processed excipients fully adapted to direct compression: starch-based compounds (with mannitol or lactose or calcium carbonate), as well as xylitol-based compounds.
Applications
Roquette products are vital ingredients suitable for:
Solid dosage forms (tablets, capsules, granules, sachets and powders)
Liquid products (syrups, semi-solids and softgels)
Pharmaceutical confectionery (gums, lozenges and pastilles)
Pyrogen-free raw materials (injectable iso-osmotic and peritoneal dialysis solutions)
Ingredients for clinical nutrition and nutraceuticals (enteral feeding and dietetic)
Innovative Solutions
Roquette meets customer needs for innovative products by pioneering a range of new solutions.
These include:
Orodispersible solution: PEARLITOL® Flash is a mannitol compound that allies robustness with rapid disintegration. It offers the consumer a uniquely pleasing taste experience and makes tablet formulation surprisingly simple
Film coating solutions: LYCOAT® and ReadiLYCOAT® are natural inert polymer and ready-to-use coating systems for up to 50 per cent faster aqueous film coating
Taste-masking: KLEPTOSE® Linecaps is a pea Maltodextrin solution designed to mask unpleasant drug tastes that is ideal for pediatric formulations, nutraceuticals and OTC medicines
Direct compression solutions: Roquette offers a wide range of directly compressible excipients designed to optimize formulations and processes, including PEARLITOL® SD and PEARLITOL® DC (mannitol), NEOSORB® XTAB (Sorbitol), SweetPearl® DC (Maltitol), XYLISORB® XTAB (Xylitol), LYCATAB® C (Partially pregelatinized starch), LYCATAB® Mineral (Compound of calcium carbonate and starch) and StarLac® (Compound of lactose and maize starch)
Customer Services and Supports:
Roquette backs its products with a comprehensive worldwide customer service network that includes a New Pharma Application Development Center, Quality, Regulatory and Intellectual Property Department, Analytical, Logistic and Engineering services.
Moreover, experts from the new pharma dedicated Application Development Center can assist clients with specific added value services that can help with:
Innovation: Assistance for any stage of a project, from formulation development to industrial production
Compression simulation: customized solutions to help manufacturers anticipate and optimize tablet formulation and production process
Formulation and on-site assistance for coating
Resources
Click on Roquette plant-based excipients for more information.
Click on Roquette to contact the company directly.
---
Supplier Information
Supplier: Roquette Pharma
Address: 62080 Lestrem, France
Tel: +33 3 21 63 36 00
Fax: +33 3 21 63 94 64
Website: www.roquette-pharma.com/
---