Contact Supplier
Contact Supplier
To get in touch with Re-engineered TAmiRNA website goes live, simply fill out the form below.
Re-engineered TAmiRNA website goes live
Vienna, Austria: Biotech innovator TAmiRNA has transformed its online presence with a redesigned and re-engineered website at www.tamirna.com. www.tamirna.comThe new website went 'live' in early December, including key changes to navigation, with pull down contextual menus allowing customers easier access to key information about TAmiRNA one-stop biomarker development services of diagnostic solutions for early diagnosis, prognosis, or patient stratification.
Mobile functionality
The site has also been engineered for easier mobile browsing from tablet or smartphone.
The website now provides more information and ordering functionality for TAmiRNA products, notably the thrombomiR® kit, which provides an in vivo measure of platelet function independent of the activation pathway or the osteomiR™ kit, enabling rapid detection of microRNAs that can serve as novel validated bone biomarkers for early diagnosis and prognosis of fracture risk in post-menopausal osteoporosis and bone quality.
Resources
It also provides useful information resources on various aspects of microRNAs, including function & biogenesis, biomarker applications, osteoporosis diagnosis and risk reductions, platelet functions and toxicity.
"We have redesigned the site bearing in mind the needs of biotech and pharma companies participating in clinical studies, universities, clinical research groups, potential customers and partners," commented TAmiRNA head of Scientific Communications, Dr. Elisabeth Semmelrock, who was a key member of the site development team.
"We have widely publicized the new site to our customers by email and to our social media followers and initial feedback has been very favorable,' said Dr. Semmelrock.
About TAmiRNA
TAmiRNA specializes in technologies for profiling levels of blood-circulating microRNAs and developing multi-parametric classification algorithms ("signatures"). TAmiRNA uses these technologies to develop minimal-invasive diagnostic tests for drug development, early diagnosis and prognosis of disease, and as companion diagnostic tests to support treatment decisions.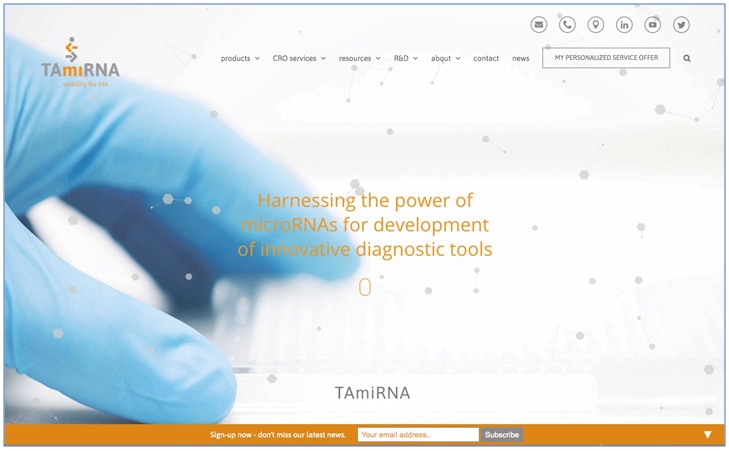 Re-engineered TAmiRNA website features leading edge design and enhanced functions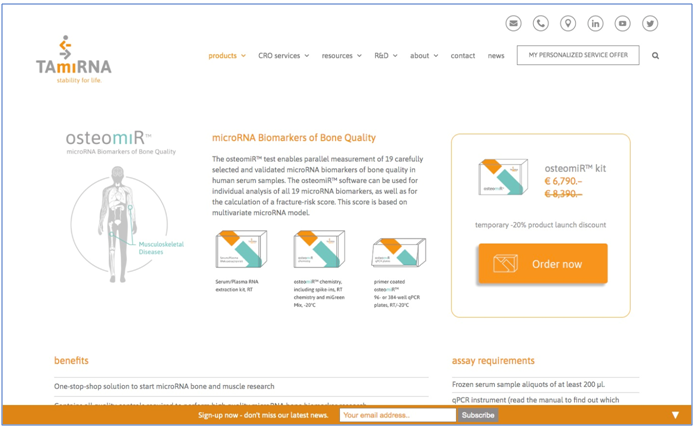 New TAmiRNA site offers direct product purchasing online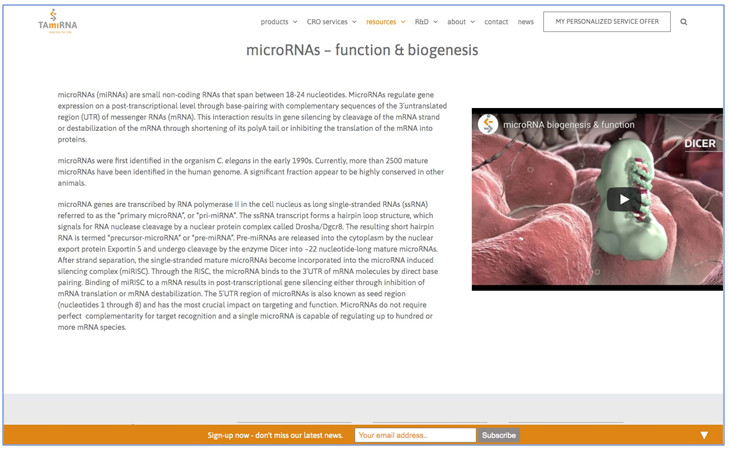 TAmiRNA Resources section features technical information with embedded video