Contact Supplier
Contact Supplier
To get in touch with PHC Europe BV, simply fill out the form below.
PHCbi Cellbox solutions for live cell shipping
PHC Europe now offers the Cellbox range of live cell shipping cases incorporating innovative technology for air and surface shipping of live cell cultures, tissue and other cell-based samples.
The Cellbox shipper provides cost efficiency whilst maintaining the viability of cells, keeping them under ideal conditions during transport. It also reduces stress on cells and streamlines logistics chains by eliminating need for pre-freezing and post thawing.
Cellbox Ground CD
The Cellbox Ground shipper is a self-sustaining incubator for temperature-controlled logistics, allowing temperature and CO2 to be pre-set and maintained to ensure optimum conditions for up to 24 hours during shipment. The robust and shock resistant design also provides a high degree of physical protection.
The overall format complies with the UN3373 logistics standard.
CO2 can be set and regulated between 0% and 20% while temperature can be set and maintained at three degrees Celsius above ambient (AT) within a range of 28 °C to 38°C. Temperature control and the disposable cartridge CO2 supply can maintain 37 °C and 5% CO2 for 24h+.
Cellbox incorporates a full color touch screen controller with data logging, Bluetooth connectivity and App-based data transfer. The incubation space is suitable for a variety of culture vessels including multiple multiwell plates, T-Flasks and chip formats.
Cellbox is supplied as standard with an integrated rechargeable lithium-ion battery pack, multiwell plate holder, power adaptor and international range of power cords.
Cellbox Flight CDI
The Cellbox Flight CDI Shipper uses a similar format and achieves equivalent performance to the Ground CD version but uses an unique integrated dry ice CO2 well to comply with international air transport regulations. It is also 1Kg. lighter than the Ground version.
This allows air shipment globally as the only live cell shipper with controlled CO2 levels. Cellbox also meets international flight allowances under packing instruction PI 967, Section II.
Specifications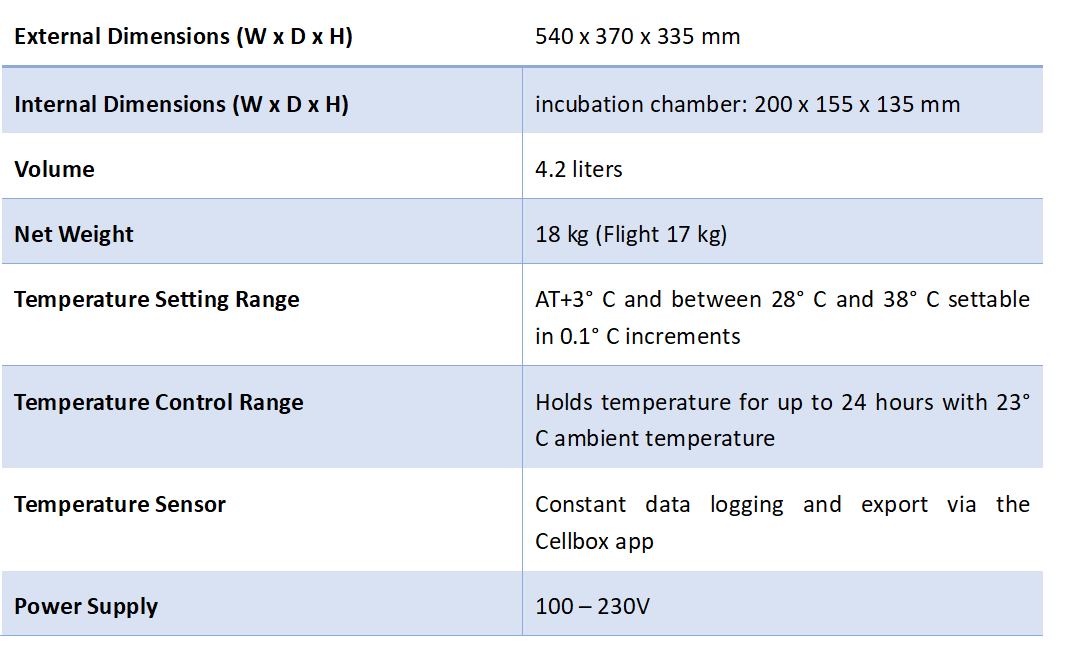 Cellbox Accessories & Options
PHCbi offer a range of optional accessories for Cellbox Ground and Flight cases. These include:
Care kit (disinfectant, care product, cleaning cloth)
Replacement CO2 disposable cartridges
Additional battery pack to extend runtime for up to four hours
Air packaging kit providing additional Styrofoam protection for flight transport
Relevant air and ground transport UN3373 Dangerous Goods Declaration stickers