Contact Supplier
Contact Supplier
To get in touch with Dividella AG, a Körber Group company, simply fill out the form below.
Packaging for prefilled syringes
Dividella's modular and highly flexible/adaptable monomaterial packaging solutions are ideally suited to economical and efficient cartoning of parenteral products, including the whole range of prefilled syringe types.
Dividella's latest 100% monomaterial solutions solve issues for pharmaceutical manufacturers that extend right across the value chain from manufacturing cost through logistics savings to product security and traceability.
Packaging of pre-filled syringes
Over recent years, the pharmaceutical industry has increasingly embraced pre-filled syringes as a more user-friendly delivery format for parenteral drugs and vaccines, simple to handle and with minimal risk of spillage, contamination or, crucially, dosage error.
This trend has been accelerated by the greater prevalence of biotech products with their greater therapeutic effect but whose active ingredients are frequently too unstable to be incorporated into solid-dose tablets or capsules. More than 90% of these products are therefore packaged as liquids in syringes, vials or ampoules.
Secure packing of these hi-tech liquid products has become a key concern, not only because of their greater fragility and cost, but also because they tend to be temperature-controlled and subject to the added constraints of cold-chain logistics where volume is at a premium.
It follows that innovative carton packaging solutions for prefilled syringes are needed to enhance their marketability, which also means meeting increasingly stringent regulatory guidelines on product protection, security traceability and environmental sustainability.
The ideal modern packaging system must also support vision system automatic item and code checking, integrated labelling, printing and inserts, auto-checking of variable data, minimized machine setup and changeover times and GMP compliance.
Monomaterial packaging solutions
Three global pharma trends have driven reappraisal of packaging formats: cost pressures, increased regulation and environmental/sustainability imperatives.
This has in turn inspired a new and more holistic approach to packaging, emphasizing total cost of ownership (TCO) and total cost of package (TCP) as key metrics. These extend past the narrow cost of the package or machine itself to consider total operating and investment costs, personnel, set-up times, the cost of packaging machine format parts and material losses and implications across the entire logistics chain.
This approach should also consider the functional requirements of the package, which are not only to safeguard the product throughout its route from manufacture to final point of use but also to deliver patient information and tracking data to form an end-to-end metadata link between the pharma company and its consumers. In effect, the carton becomes an essential part of the prefilled syringe delivery system, delivering patient benefits like ease of access, reclosability clear instructions and peace of mind.
The material format of the package can also deliver unexpected total cost reductions.
Dividella has been able to show how a monomaterial syringe carton formed on its NeoTOP toploading solution can out-perform a polyvinyl chloride (PVC) or polyethylene terephthalate (PET) blister pack and attendant end-load carton. This is not only due to the lower inherent costs of the materials used (proprietary 315gsm carton board and hot-melt glue) but also cost savings from achieving up to 30% reduction in the ratio between product and package volume for disposable syringes, delivering consequent reduced logistical costs that extend from storage through transport and delivery, particularly where these take place in cold chain, where space is at a premium.
There are further functional advantages from adopting a top-loading format, such as ease of access, immediate presentation of entire contents for user, better integration of patient literature or user labelling, superior integration of disparate elements such as additional needles and vials, more evident tamper protection and ease of reclosure.
Protection from counterfeiting or tampering
Expensive biotechnology products are particularly at risk of being counterfeited or manipulated with severe patient consequences.
Co-operation between Dividella and other Korber Medipak System partners has yielded an anti-counterfeiting solution incorporating invisible codes for pack, product and information on usage that also allows "Track and Trace" logistic auditing, sister company Traxeed www.traxeed.com.
Other anti-counterfeiting measures can include micro-text in the print of the carton or the application of holographic labels while tamper-proofing may be provided by means of sealing label, or glue spot and tear-out panel opening. A key advantage of the top-load carton is that pack integrity is immediately evident.
Environment and sustainability
The environmental impacts of packaging have also become increasingly front of mind, driven by rising energy costs, need to reduce carbon footprints and an ever more demanding consumer agendas, particularly on avoidance of plastics. Choice of carton formats can address all of these concerns. Monomaterials are inherently less polluting, more renewable and recyclable and less energy intensive to manufacture than PVC or PET, particularly when the latter are used in laminate form. The only reason to prefer plastics is when the package might also be required to contain spillage.
Resources
Click on Prefilled Syringe Packing for machine aspects.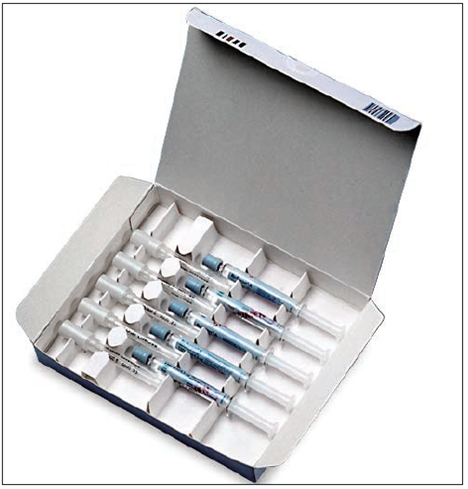 Dividella monomaterial top-load carton for prefilled syringes and needles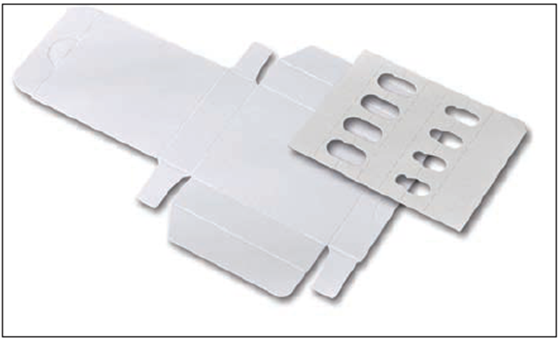 Monomaterial top-load cartons are formed from space-saving flat blanks
View Articles by Dividella AG, a Körber Group company