Contact Supplier
Contact Supplier
To get in touch with MEDELPHARM S.A.S, simply fill out the form below.
Medelpharm STYL'One Nano to star at CSF 2019
Beynost, France: – Research-based manufacturer and powder compaction specialists Medelpharm S.A.S. will return to the influential Compaction Simulation Forum (CSF) in the United States to present its advanced tableting research and pharmaceutical product development capabilities and technologies to academic formulation scientists.
Medelpharm will exhibit from a table top stand at Rutgers the State University of New Jersey, which allows it to present the ultra-compact STYL'One Nano, a revolutionary benchtop-sized R&D tableting press.
STYL'One research capabilities
The Medelpharm team, Application Laboratory Manager Adrien Pelloux and Director Strategic Marketing Régis Cazes will use a mock up machine plus video (see Resources) to present virtual demonstrations of the STYL'One Nano's extended capabilities.
Medelpharm's STYL'One Evolution will also feature in a conference presentation by Thi Tram Nguyen, a PhD student from South Korea's Sungkyukwan University, who features the research to production machine in her case study 'Fines recycling in Roller Compaction'.
"We have been annual attendees at CSF conferences over many years and a consistent contributor to the conference programs with presentations and addresses," commented Medelpharm President Bruno Villa.
"We are looking forward to returning to this great event as an excellent opportunity to connect with an enthusiastic and committed audience of academic formulation scientists," said Ingrid Coyle.
CSF 2019
Medelpharm has regularly attended the annual Compaction Simulation Forum since it was founded in 2010 for scientists, engineers, academics and equipment manufacturers to reflect the rise of high-speed hydraulic simulators and mechanical replicators in the Pharmaceutical Industry and Academia.
CSF 2019 is a three-day event opening June 3 at Rutgers the State University of New Jersey in New Brunswick, NJ. The event is organized by the Compaction Simulation Group under the Presidency of Dr. Kevin J. Bittorf with further information at: http://www.compactionsimulation.com/
About Medelpharm
Medelpharm is an international enterprise, located in Lyon, making available the most powerful, still easy-to-use R&D tableting presses like STYLCAM and STYL'One to every formulator and development scientist.
You are looking for assistance in API and excipient characterization, solid dosage formulation or production trouble shooting? Please come and visit our powder characterization laboratory in Lyon.
Medelpharm offers a comprehensive portfolio of Mechanical Compaction simulators, Multifunction R&D Tablet Presses, and Process equipment and extensive Services in tableting, granulation and coating.
Made by people for people.
Website link: www.medelpharm.com – contact@medelpharm.com
Resources
Click on STYL'One Nano to download brochure.
Click on STYL'One: The Tableting Instument for video presentation.

STYL'One Nano can research and produce a very wide range of tablet formats including tab-in-tab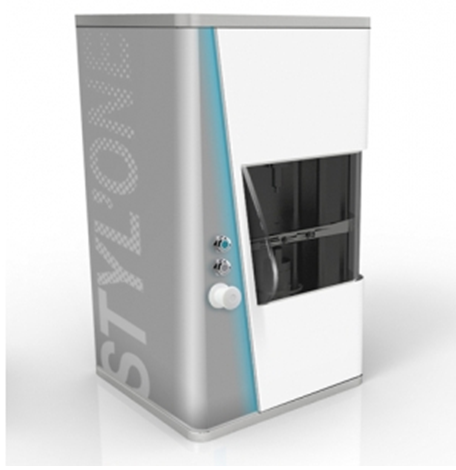 Medelpharm STYL'One Nano benchtop R&D tableting instrument