---
Medelpharm and Merck hail success of tableting seminar as future model
---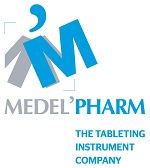 Press Release | MEDELPHARM S.A.S
NOVEMBER 06, 2017
Beynost, France: – Research-based manufacturer and powder compaction specialists Medelpharm says its successful recent one-day technical workshop on the future of direct compression tableting co–hosted with pharma giant Merck could now form the basis for an on-going series of similar international seminars.
"Merck and Medelpharm believe this model of one or two-day scientific workshops with emphasis on hands-on training could be extended worldwide," said Medelpharm Corporate Business Development & Communication Director Ingrid Coyle, who co-hosted the event with Gilles Rochefort, of Merck.
Solid dosage professionals from all over Europe attended the September workshop "Pave Your Way to the Future of Solid Dosage Production", held at Hôtel Logis in Lyon and also at Medelpharm's headquarters nearby.
Formulation & development focus
The training course focused on formulation and development of drugs, and optimization of process development for large-scale production.
Featured speakers included Dr. Jan-Ulrich Finke, from TU Braunschweig, Mike Frodsham of Quay Pharma, Marie-Joelle Celadon of Merck and Régis Cazes from Medelpharm.
"We were very pleased with attendance for the workshop, with people making their way here from all over Europe," commented Ingrid Coyle.
"We have received positive feedback, with participants telling us the day was time spent wisely with an enjoyable syllabus that combined scientific presentation with hands-on training with our latest Medelpharm STYL'One Evolution Multilayer Tableting Instrument," she added.
Formulation & development focus
The workshop also showcased complementary technologies from both companies, with Merck presenting the groundbreaking surface structure of its Parteck® M 200 tablets enhancing dissolution, API delivery and content uniformity.
The seminar included direct demonstration of different direct compression and bilayer regimes with detailed evaluation using sophisticated SOTAX and AnalytikJena instruments.
'All participants were happy and appreciative for a successful combination of scientific presentations and hands-on training on the STYL'One Tableting Instruments in our newly built Medelpharm laboratory," said Ms. Coyle,
About Medelpharm
Medelpharm is an international enterprise, located in Lyon, passionate about designing and manufacturing easy–to-use, fast and reliable equipment for research and development scientists.
For clients looking for assistance in powder characterization, solid dosage formulation or production troubleshooting, Medelpharm can offer a comprehensive portfolio of Multi-function R&D Presses, Tableting Instruments and Compaction simulators, Process equipment and extensive Services in tableting, granulation and coating.
Made by people for people.
Website link: www.medelpharm.com
contact@medelpharm.com
Media Contact
Ingrid Coyle, Corporate Business Development & Communication Director, MEDELPHARM S.A.S.
Tel: Tel: +33 610 50 79 55
Email: contact@medelpharm.com
Resources
Click on Medelpharm-Merck Lyon training workshop feedback for other information.
Click on MEDELPHARM to contact the company directly.
Click on SOTAX disintegration tester for more information.
Click on AnalytikJena for more on UV spectrophotometry.
---
Supplier Information
Supplier: MEDELPHARM S.A.S
Address: 12, rue des Petites Combes, Z.I. Nord, F-01700 Beynost, France
Tel: +33 478 976 213
Fax: +33 478 881 865
Website: www.medelpharm.com
---