Contact Supplier
Contact Supplier
To get in touch with MEDELPHARM S.A.S, simply fill out the form below.
European debut for Medelpharm STYL'One Nano at All4Pack Paris
Beynost, France: – Research-based manufacturer and powder compaction specialists Medelpharm S.A.S. will give Europe its first sight of its revolutionary new benchtop tablet press, STYL'One Nano, at the upcoming All4Pack Packing and Logistics trade show in Paris.
Medelpharm's appearance at All4Pack comes just three weeks after it staged the world launch of STYL'One Nano at the American Association of Pharmaceutical Scientists (AAPS) annual meeting in Washington D.C.
Research and production platforms
The Medelpharm exhibition stand at Booth 6RO18 will place the research-focused STYL'One Nano as its centerpiece as the most advanced benchtop tablet press available to formulation scientists and academics with price performance in mind.
The Medelpharm display will also feature the company's strong range of production-oriented platforms, including the LB Bohle BRC 100 Roller Compactor, BTC 400 Coater, BFS 240 Fluidbed system, QbCon Granulator and Dryer, the Quadro U20 Mill, SLS Small Scale Lab system, the Caleva Multilab and Procept Multi processing Unit, with modular Fluid Drying and Coating.
Bringing flexibility to all labs
Fully instrumented with standard B&D tooling, the new STYL'One Nano tablet press is controlled by software in force and displacement. It runs single stroke movements, as well as saw tooth or square profile (elongated dwell time) with speed way beyond classic single stroke presses.
"Being able to program pre and main compression allows this press to compete with the R&D rotary presses, producing up to 1800 tablets per hour," added Medelpharm Technical Director Thomas Vermeulin, who has played a major role in designing the STYL'One range.
"We are building on the technologies used in our reference STYL'One Evolution, to bring to the largest audience the flexibilities that were previously reserved for an elite. We plan to install a STYL'One Nano in every laboratory who is serious about development and could not afford expensive compaction simulators before," declared Ingrid Coyle, Medelpharm's Vice President for Business Development.
USP 1062 Impetus
"We also believe the recent publication by ECA of the USP <1062> Chapter on powder compression, defining the compaction design space, will also create new demands for solutions with this level of versatility," said Ms. Coyle
"The STYL'One Nano build on the ease of use and versatility which has made all Medelpharm products so well received across the market. Featuring a compression zone with basically no screws, easy to clean, an elegant design and very strong build, we have created a benchtop machine that scientists will be proud to own," added Thomas Vermeulin.
The STYL'One Nano comes fully configured with upper and lower punch instrumentation, PC-hosted analytical software and tablet press control, B- and D punch support. It will be available in volume in the 2nd half of 2019.
All4Pack 2018
France's All4Pack trade show is one of the biggest packing and logistics events in Europe, addressing food & beverages, industrial, consumer, pharmaceutical and cosmetics markets.
The combined Packing and Logistics (previously Handling) exhibitions together form one of the world's largest process and packaging events, attracting some 80,000 visitors, around a third of them from outside France.
The 2018 show is a four-day event opening November 26 at the Paris Nord Villepinte exhibition center. It features new branding and refreshed visual identity, with greater focus on the Logistics sector.
More information at: http://www.all4pack.com
About Medelpharm
Medelpharm is an international enterprise, located in Lyon, making available the most powerful, still easy-to-use R&D tableting presses like STYLCAM and STYL'One to every formulator and development scientist.
You are looking for assistance in API and excipient characterization, solid dosage formulation or production trouble shooting? Please come and visit our powder characterization laboratory in Lyon.
Medelpharm offers a comprehensive portfolio of Mechanical Compaction simulators, Multifunction R&D Tablet Presses, and Process equipment and extensive Services in tableting, granulation and coating.
Made by people for people.
Website link: www.medelpharm.com – contact@medelpharm.com
Media Contact
Ingrid Coyle, Corporate Business Development & Communication Director, MEDELPHARM S.A.S.
Tel: +33 610 50 79 55 or +33 478 9762 10
Email: icoyle@medelpharm.com
Resources
Click on Medelpharm at All4Pack 2018 for other information.
Click on MEDELPHARM to contact the company directly.
Click on STYL'One Channel for video.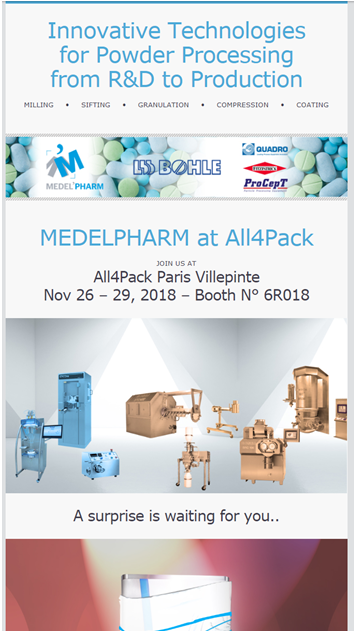 ---
Supplier Information
Supplier: MEDELPHARM S.A.S
Address: 12, rue des Petites Combes, Z.I. Nord, F-01700 Beynost, France
Tel: +33 478 976 213
Fax: +33 478 881 865
Website: www.medelpharm.com
---