Contact Supplier
Contact Supplier
To get in touch with Dividella AG, a Körber Group company, simply fill out the form below.
Dividella embraces sustainability with flexible design and 100% monomaterial capabilities
Grabs, Switzerland: – Toploading and secondary packaging specialist Dividella says the current sense of 'environmental emergency' is vindicating its traditional focus on sustainability objectives via adaptable modular platforms and non-plastic monomaterials.
Sustainability and reduced total costs of packaging and ownership (TCP/TCO) have been core objectives for Dividella since it was founded more than 40 years ago.
It has achieved this by building greater flexibility and adaptability into its NeoTOP toploading packaging platforms with increasingly modular designs and interconnectivity that allow one line to handle multiple products and formats.
Over recent years, it has further increased its emphasis on resource-saving monomaterials cardboard-based packaging formats that are inherently more economical and sustainable in materials use, avoiding plastics, as well as reducing weight and volume across the logistics chain.
The overall impact is to make pharmaceutical parental packaging more sustainable as well as reducing TCO and TCP.
Reduce, re-use and recycle
The Dividella modular packaging concept recognizes the "reduce, re-use and recycle" mantra of sustainability across the whole process from machine design to final package format and function.
"Our production platforms are among the most adaptable and flexible in the whole industry," commented Dividella AG's head of Marketing Communications, Marta Berger.
"Our NeoTOP platforms are capable of handling far more than one product and can easily be configured to handle many, many, formats on the same line with an array of feeding modules that can be placed side by side," Mrs. Berger explained.
"Recently, we have delivered and installed systems with more than 10 product feeders with retro-fitting an increasingly important part of our business. This has included, for example, adapting NeoTOP platforms originally intended for vial and syringe packaging to handle injector pens as well," she added.
"Meanwhile, recent events have proved we are correct to embrace monomaterials packaging as not just favorable to manufacturer's bottom line but also kinder to the environment," Marta Berger declared.
Material savings
The use of chiefly board, fiber and paper-based monomaterials helps manufacturers meet the increasingly urgent imperative to become "plastics free" as part of their sustainability goals with significant impact for the pharma industry, in which the packaging and logistics chain accounts for the greatest consumption of plastics.
Adopting monomaterials packaging can also deliver very significant cost savings, with direct impact on very many TCO/TCP factors, including reduced material costs, greater efficiency and adaptability in packaging processes, reduced volume and weight in logistics and reduction, reuse and recyclability of materials.
The combined impact can drastically reduce the TCP of, for example, a typical parenteral package 'classic' plastics-based blister pack of three syringes and pack insert in side-loading folding box. Adopting a 100% monomaterial folding box with glued corrugated flute, produced on toploading machine, can deliver savings of around 25% in box cost, around 70% in tray and total elimination of foil costs, more than halving overall cost of package from around 24 cents to around 10 cents. For an annual quantity of 2.5 million packs, total costs are reduced from $600,000 to around $250,000 for the monomaterials solution, producing recurring savings of $350,000 per annum in materials cost alone.
Logistics and energy efficiencies
The monomaterials solution delivers further savings across the value chain, principally through weight and volume savings in logistics, with a NeoTOP produced monomaterials package taking up around half the volume required for a blister pack. This almost doubles payload for a nine cubic meter refrigerated container from just over 12,000 packs to almost 21,000, reducing per pack shipping cost from almost 41 cents to under 25c.
Monomaterial packaging savings further extend into energy use during packaging, reducing demand for the high heating demanded for film forming and sealing in blister packs. Using the same parenteral syringe pack example, energy costs per shift total some $5,000 for a TopLoader processing monomaterial packs, compared with $12,000 for a blister pack process.
About Dividella
Dividella AG, a member of the Korber Medipak Systems Group, specializes in developing and manufacturing packaging machinery for the pharmaceutical industry with specific expertise in packaging requirements for parenteral products. Based in Grabs in the Canton of St. Gallen in eastern Switzerland, Dividella counts 20 of the world's largest pharmaceutical companies among its clients, including the entire top ten.
For four decades, Dividella has provided innovative and highly effective solutions for secure and flexible handling and packaging of pharmaceutical products. Its patented top-loading systems form the basis for solutions that have continually evolved to provide the most up-to-date, patient-friendly and environmentally responsible solutions for parenteral packaging.
Dividella provides complete secondary packaging solutions for medicinal products that can be difficult to stack, such as needles, injector pens, vials and syringes. Its top-loading solution enables product handling with extreme care and safety. Dividella patented feeding systems guarantee that all products are handled with appropriate care while maintaining high output.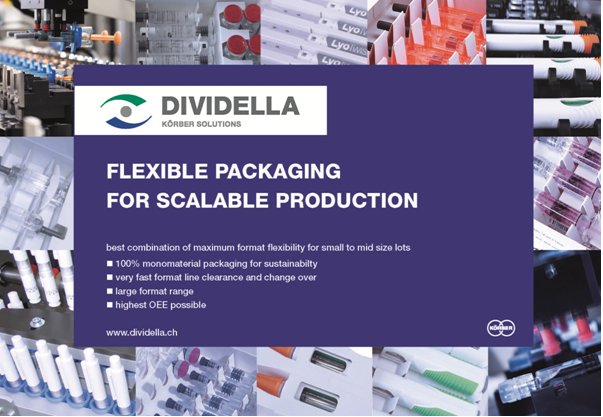 Dividella's highly modular cartoning systems provide adaptable and flexible feed and handling options to enable fast time to market
View Articles by Dividella AG, a Körber Group company