Contact Supplier
Contact Supplier
To get in touch with Dividella AG, a Körber Group company, simply fill out the form below.
Dividella cartoning machines for prefilled syringe
Dividella's modular and highly flexible/adaptable monomaterial packaging platforms are ideally suited to economical and efficient packaging of parenteral products, including the whole range of prefilled syringe types.
Dividella's latest toploading solutions cater to pharmaceutical manufacturers looking to produce small batches – down to individual units – more efficiently with support for semi and fully automatic packaging of vials, syringes, auto-injectors and other parenteral products, even down to applying product labels to syringes.
Packing of pre-filled syringes
The most effective cartoning solutions for prefilled syringes need to support highly flexible schemes that can handle a wide range of different packaging items and formats while at the same time providing sensitive handling and optimal product protection and delivering the flexibility for 'on demand' manufacturing that includes small, medium and large lot sizes. The ideal modern cartoning system must also support vision system automatic item and code checking, integrated labelling, printing and inserts, auto-checking of variable data, minimized machine setup and changeover times and GMP compliance.
All of these benefits; cost reduction, data integration, security and sustainability; are not delivered by the pack alone but by the combination of pack and packaging platform operating as a modular and holistic solution, with cartoning machines and feeding systems forming the other (process) elements.
Indeed, looking at packaging costs alone, it is evident that the greater benefits lie on the process side:
Only one installation instead of a thermoforming machine and a cartoning machine.
No thermoforming process (with typical heat input of 20kW).
Fewer personnel required.
Set-up and format changes in 30 minutes.
Mono-material packaging independent of changes in the price of oil.
Higher machine efficiency.
Flexibility in machine allocation.
Retrofitting/conversion of installations is practical as a result of the machinery's modular construction.
The Dividella packing system
The Dividella packaging process adopts a stage by stage methodology. The top priority is always to find the optimal cardboard-based packaging solution. In a second stage, the appropriate machine is chosen, depending on production volume and batch sizes.
The cartoning platforms are carefully designed down to the last detail and have proved themselves in practice every time.
The current NeoTOP and NeoTRAY flexible packing systems represent the fourth generation of a series of cartoning machines for secondary packaging, raising modular form to new heights of functionality and ergonomic convenience, as well as combining toploading and sideloading capabilities in one platform.
The scalable packaging lines – from low volume/small lots to high volumes represent an optimum solution for packaging of prefilled syringes with output of 10 to 400 ppm per minute and catering for carton sizes from very small: 60 х 45 х 17 mm to 'shoebos size; they operate in a timed mode and include interconnected modules, each performing specific production steps: carton and insert erection, product insertion, leaflet insertion, carton closure, labelling, etc.
Internal inserts, supporting product safety, can have up to 4–6 partitions are glued in position. The carton is erected in the first module and then transferred to the next module for safe product insertion. This module can have automatic feeders for parenteral products or manual insertion modules designed for two operators or a robotic feeding.
Dividella packaging lines have many sensors that provide visual alarms to the operator and are used for pack rejection if it does not comply with pre-set parameters for every quality specific including shape, fill levels, inserted product detector, leaflet code or bar code detection and final closed carton width and height.
Prefilled syringe feeding
Feeding is a particular challenge for fragile items such as prefilled syringes, vials, pens and soft blisters. Here, Dividella is able to apply a very wide range of feeding technologies and customized solution linked to upstream machines. New modular feeding system based on Dividella's many years' experience of object handling allow up to 500 objects per minute to be aligned, spread and individually checked before insertion into the carton on the packaging line.
Feeding systems are also designed for scalability to handle the challenges of placing inserts, allowing even very large, thick inserts to be fed in at full speed with minimum labor.
In recent years, Dividella, on the basis of its particular expertise in this area, has already developed many different customized feed systems, linked– for pens, prefilled syringes, plungers, soft blisters etc. Dividella feeding systems are also used successfully by their sister company MediSeal who specializes in thermoformers. These synergies ensure that systems are used in many different situations, field-tested and further developed to guarantee maximum operational reliability.
Resources
Click on Prefilled Syringe Packaging for more on formats and materials.

Dividella NeoTOP & NeoTRAY Cartoners from lot size 1 to high volume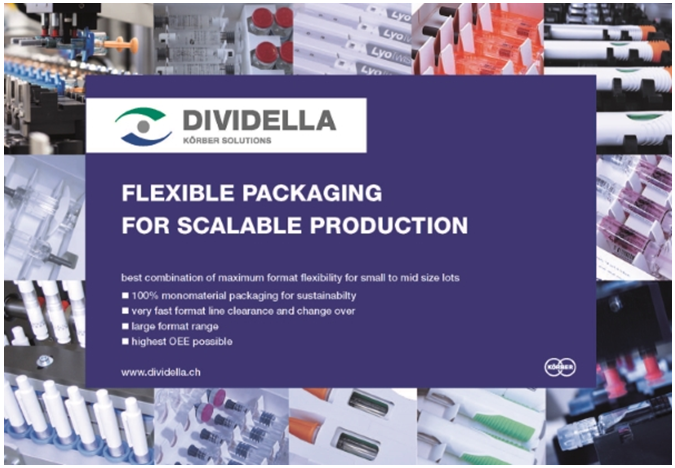 View Articles by Dividella AG, a Körber Group company